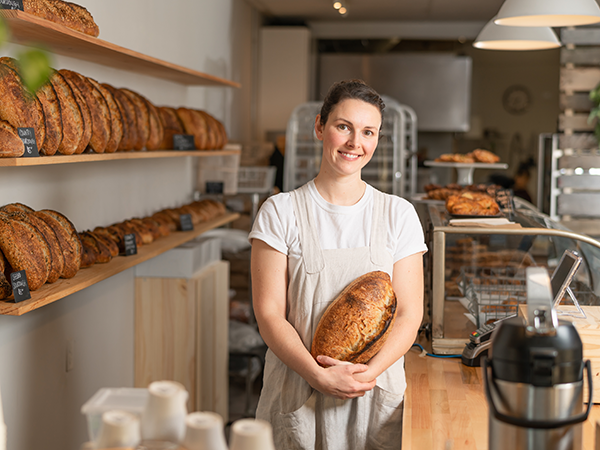 WHO SHE IS
Jessica Best, owner of Birdies Bread Co., remembers the exact moment she fell in love with sourdough. After her culinary training, she began working at a bakery in St. John's, Newfoundland. On her first day, Best saw the bread coming out after baking. "Making sourdough is such an intimate process," she says. "When you take it out of the oven, everything comes together. So, when I saw that moment, I wanted to learn how to make it." Since then, she's been obsessed with the art of sourdough. "I find it so fascinating and dynamic," she says. In 2016, Best began selling bread at the Alderney Landing Farmers' Market, quickly amassing a following. In 2017, she opened Birdies Bread Co. at 380 Pleasant Street in Woodside, which focuses solely on naturally leavened products—from breads to pastries to pizza dough—made with local grains milled in-house.
---
WHAT SHE DOES
Best's sourdough takes three days to make, from the time she feeds the starter to the time she places a finished loaf on the shelf. A sourdough starter usually consists of fermented wheat flour and water, producing lactobacillus bacteria which act as the bread's leavening agent. "Commercial yeast has never been in the door here," she says.
A sourdough starter is alive, and needs to be cared for. Best feeds hers every day. She and her staff take daily notes on its taste, smell and texture, observing every minute fluctuation. When starter is added to dough, it begins to ferment, enhancing the flavour and breaking down some of the gluten. Best makes fresh dough every morning, doing a series of turns and folds to "guide it through its day." Once it's rounded and shaped, the dough is kept in a walk-in fridge overnight. The next morning, it goes straight into the hearth-style oven. Beyond its rotating breads, Birdies also offers house-made yogurt, cultured butter, granola, muesli, crackers, a selection of rotating pastries and daily soups and sandwiches. Best's bread can also be found at several restaurants throughout the city, such as Bar Kismet, The Canteen and Cafe Good Luck.
---
WHERE SHE DOES IT
When she decided to open her own bakery, Best didn't have an ideal location or aesthetic in mind; it was based on practicality. She wanted to be in Dartmouth, she wanted ample parking for customers and she had "very specific electrical requirements" for the flour mill and deck oven. She decided to name the bakery "Birdies" after the nickname that her grandfather bestowed on her grandmother and all their grandchildren. "We were all his birdies," she says. Portraits of Best's grandfather and grandmother are on the wall. The space is airy and bright, like a bird about to take flight. Light fixtures look like nests hanging from the ceiling. An elegant bird cage is tucked into the righthand corner. "I want people to feel at home here," Best says. "I want them to feel a sense of nostalgia, like they're being reminded of a fond memory."
---
WHY IT WORKS
Bread has a history that spans millennia—it is the most widely consumed food in the world. "I feel like bread can unite almost everyone," she says. "Every culture has some version of it. I want people to love bread again. I want to show people that, when made with the right ingredients, it can be a wholesome part of their diet." Best enjoys sending each customer off with their own loaf of bread and hearing about its life outside of the bakery. "People make memories around it," she says. "It becomes a part of their day."