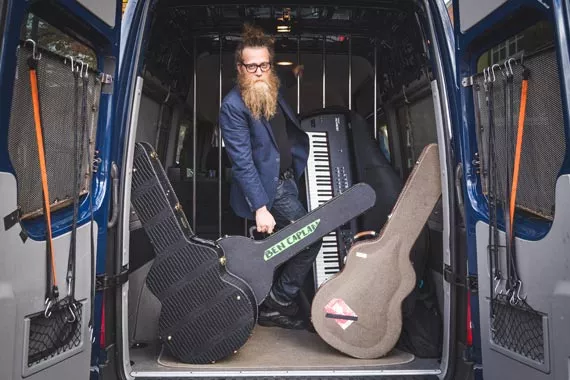 WHO HE IS
Halifax singer-songwriter Ben Caplan is back for two 10-song concerts with Symphony Nova Scotia this weekend. He performed three songs with the symphony in 2012, "and it just whet my appetite," he says. "This feels way more substantial." It's a rare occasion to see Caplan in town, so we caught up with him in his Mercedes Sprinter van, where he spends most of his time.
WHAT HE DOES
The multiple-award-winning folk musician has been touring his second record, Bird with Broken Wings, all over the world since its release in September. "I have five gigs between now and December 17th, when I leave again for a 15-week tour through the Netherlands, Scotland, England, Germany, Scandinavia, Poland, the Czech Republic, Austria, Switzerland, France, then Kansas, Colorado, Texas and up the Eastern seaboard," Caplan says. In North America, he drives 10 or more hours a day between shows.
WHERE HE DOES IT
"My van feels like home now," says Caplan. He bought the Sprinter in Montreal and hopes to take it to Europe in 2017. "It's thick and comfortable. It's basically an RV." He usually travels with about five band members.
WHAT'S NEXT
The Symphony NS shows: "I'm taking some big risks with this one, I'm definitely going outside of my comfort zone, and I hope the audience is ready to be pushed," he says. "Dave Christensen, who worked on my latest record, he's supervising the score, and I decided to re-work the material so it makes more sense with the orchestra. We're totally re-imagining the songs, and since there are so many musicians, I'm looking forward to being able to just sing, for the most part." He's getting used to the new music by listening to MIDI files of the arrangements and fine-tuning the approach for Friday's opening night. "Between driving or travelling all day and then playing shows every night, I'm working really hard. But the fans make it worthwhile," he adds. And the vans, too, of course.
---
Symphony Nova Scotia w/Ben Caplan
Friday and Saturday, November 20 and 21, 7:30pm
Rebecca Cohn Auditorium, 6101 University Avenue $30-$65