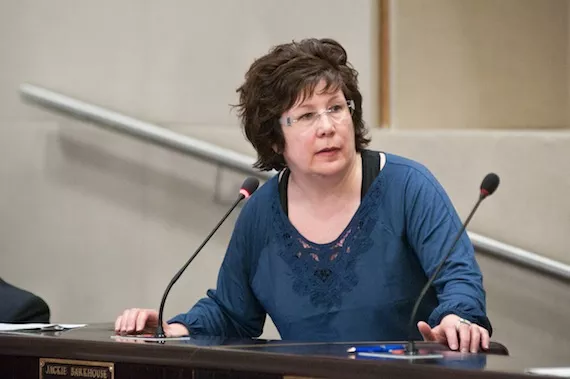 Councillor Jackie Barkhouse, who represents what is now called the Woodside—Eastern Passage district, announced on June 20 that she was going to be a candidate in the next municipal election in the newly created "Woodside – Dartmouth South – Eastern Passage" district.
Barkhouse had good reason to use that name—that's what the new district was called through a year of debate at council's district boundary review committee, and that's the name of the district as presented to the Utility and Review Board and the name the UARB used in its ruling on council districts. It was also the name the city applied to the district on the city web page—or at least it *was*, until some unknown time when a "revised" notice was placed on the page.
The new "revised" name for the district, according to city election officer Cathy Mellet, is "Dartmouth South—Eastern Passage." That is, Woodside has been deleted from the name.
What's the big deal? Well, Barkhouse has spent over $5,000 on campaign literature with what she considered the real name, "and now it looks like I don't know what the district is called. It pisses me off," she says.
Mellet admits that another councillor, among others, complained about the UARB-approved name, but says the decision to change it was hers alone. Still, says Mellet, Barkhouse or anyone else can call the district what they want.
"There were also a number of other issues raised with the names of other of the new districts," says Mellet. "Rather than return to council and the UARB to begin the process of renaming a number of districts the decision was taken by my office to advise the UARB that HRM would not be using Woodside in the name for the new district as posted on HRM web site, and leave any issues of renaming with the new council to determine."