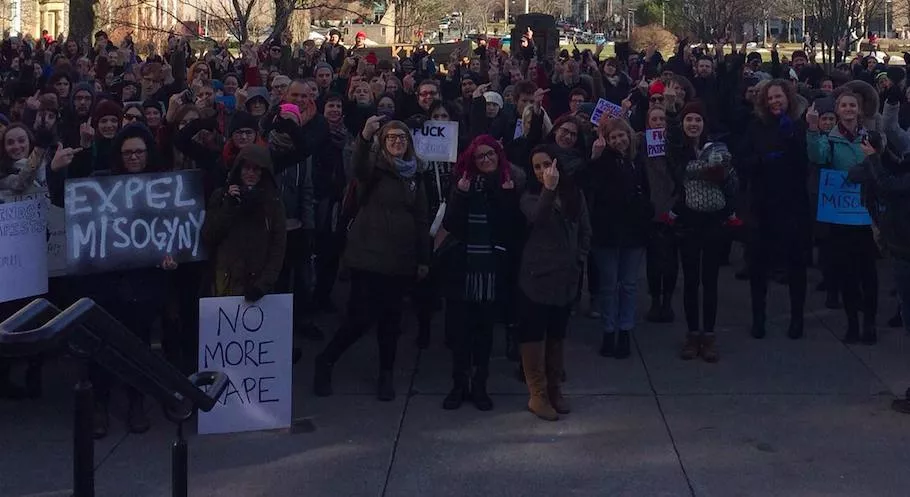 A free public panel will take place Thursday night discussing the systemic causes of sexualized violence on Halifax's university campuses.
The Canadian Centre for Ethics in Public Affairs will put on "How We Live Matters" this Thursday evening at the new library. The talk will look at what's required to create a cultural shift away from misogyny, sexism and sexualized violence. The effort comes in the wake of clinic suspensions for the 13 men in the misogynistic Dalhousie dentistry Facebook group. That incident, along with previous events like last year's Saint Mary's University rape chant, "tell us universities need an integrated approach to respond to sexualized violence" a release reads.
Dr. Francoise Baylis, Canada research chair in bioethics and philosophy and one of the Dalhousie professors who has submitted a formal complaint about the infamous Facebook group, will appear on the panel. She'll be joined by Dr. Jody Clarke (academic dean of the Atlantic School of Theology), Dr. Rylan Higgins (anthropology professor at Saint Mary's University), Dr. Marnina Gonick (research chair in gender at Mount Saint Vincent University) and Dr. Jayne Wark (professor of art history and critical studies at the Nova Scotia College of Art and Design).
The free event, moderated by Dalhousie's professor emerita in philosophy, gender and women's studies Dr. Susan Sherwin, will take place in the Central Library's Paul O'Regan Hall at 7pm. If you can't make it out, you can watch the event live right here.