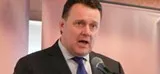 Wednesday morning, mayor-elect Mike Savage made public his list of
campaign contributions
. This is my quick analysis, and a few additional thoughts.
List is too late to help voters
Savage is releasing the contributors list long before the December 19 legal deadline to file the list, but even so, making the list public today doesn't help anyone besides journalists writing post-election stories. Rightly, the campaign contributions should be made public before election day, so voters can decide for themselves if it matters who contributed to a campaign.
Savage's primary opponents, Tom Martin and Fred Connors, both released their contributor lists before the election. This practice should be written into the election law, and should apply to all candidates.
Expenses won't be detailed
The election code does not require Savage to publicly report the details of his campaign expenses, and Savage has no intentions of doing so, says his campaign's communication manager, Donna McCready. "The team is still working on expenses, and we'll release an outline of what the money was spent on," says McCready, but as for a complete list of vendors, "it probably won't be broken into that level of detail."
This matters because, firstly, the public should know who is receiving money from the mayor-elect. But more fundamentally, it will prevent the kind of small-scale back-scratching that often accompanies municipal politics in Nova Scotia.
Here's an example. For many years, and over several campaigns and near-campaigns, including several mayoral campaigns and a potential run for parliament, Peter Kelly was conducting polling of area residents for campaign-related purposes. For all those years, it was a sort of public mystery who was conducting the poll. Earlier this year, however, I learned that a Bedford firm called The Marketing Clinic was conducting the polls, and when I called The Marketing Director co-owner Michael Blotnicky, he confirmed as much.
There's nothing wrong with a company doing work for a campaign, but it becomes somewhat problematic when you realize that the same firm, The Marketing Clinic, was hired by the mayor's office—that is, the official city office, the publicly funded mayor's office—to conduct a handful of surveys over the years: surveys related to the mayor's roundtable on violence and the annual "mayor's report card," among others.
The mayor's office told me the cost of each of those surveys fell below the $15,000 threshold that, under the city's procurement policy, would require that the contracts go out to bid. Further, I was told that the mayor's office did solicit three quotes for the contracts, and The Marketing Clinic provided the lowest quote each time. The mayor's office did not, however, reveal which companies provided quotes, or the dollar amount of those quotes.
You can see how this can get messy. Suppose an unethical mayor decided to enter a quid pro quo with a vendor: "You provide my campaign with a service for free, or for a very low cost, and in return, I'll make sure you get work through the mayor's office later, perhaps at inflated prices."
I have no proof that that's what transpired in the case of Peter Kelly and The Marketing Clinic. But one reason I have no proof could be that there's a dearth of evidence: besides the lack of details from the mayor's office, there's no documentation whatsoever of expenses from Kelly's past campaigns.
Tangentially, I think the example of The Marketing Clinic adds to an already immense pile of questionable financial dealings on Kelly's part, and so Savage should immediately conduct an audit of the mayoral office over the past 12 years. Incidentally, city hall confirms today that the mayor's office is shredding documents in its control before Savage takes office.
As for Savage, he should release line item details for every dollar his campaign spent. There are already rumours—unfounded, so far as I can determine—that Savage has inappropriately spent money. He can put those rumours to rest by becoming completely clean. That will also serve to make certain the future dealings of his mayoral office are beyond question.
Details: buying access, buying good-will
Now, to the details of the list Savage released today. My biggest concern is that many people and companies on the list will have future business before council, and the contribution to Savage's campaign is likely considered by the contributor to grease the skids: It's less likely Savage will refuse to meet privately with a campaign contributor, or throw up a bureaucratic roadblock, is the thought. Let's go through them in some detail.
Trade Centre Limited. One of the first orders of business for the new council that Savage will preside over is agreeing to a management structure for the new convention centre. This becomes immensely complex, but it appears that the existing Trade Centre Limited, which manages the provincially owned existing convention centre, will be transformed into a new Trade Centre Limited, which will manage the new half-city owned, half- provincially owned convention centre.
There are lots and lots of details that need working out, including my favourite pet peeve, which is why should the city take on any of the financial obligations of the old TCL, including the million dollar pension for former TCL president Fred MacGillivray? I asked Savage that very question, and he didn't rule out such a deal.
There are lots of other issues, including: How much control will the city have over budgeting and costing? What kind of oversight will city staff have regarding the purchase of the World Trade and Convention Centre office tower, which the city is committed to buying? Should the city simply agree to bringing on existing TCL staff, or should that staff have to reapply for their jobs in an open nationwide competition? Should the city or the province set pay rates for staff? And more.
These details will determine how hundreds of millions of dollars in taxpayer money will be spent. The details should be matter for broad public debate, but it looks like the chair of the TCL board of directors is trying to grease the skids. Savage received a $3,000 contribution from Commonwealth Investments Limited, whose president is Justin McDonough, who also chair the TCL board of directors.
Add that contribution to Savage's problematic relationship with MacGillivray, and I for one am doubtful Savage will bring the necessary even-keeled judgement to the TCL consideration.
Developers. The real money in city government is related to development issues. Small changes in zoning designations, housing density rules, timelines for when areas kick out of "urban reserve" status and the other bureaucratic minutiae of development regulation can result in millions upon millions of dollars for developers. Frankly, the $3,000 or $5,000 contributions on Savage's list are chump change for developers, who get to write the contribution off as a business expense in any event.
Discussing this issue with Rick Howe today, he said that Savage objects, saying that sure he received a $5,000 contribution from United Gulf, the developer behind the Skye Halifax proposal, but he's come out against Skye Halifax. But that's really not the issue here. It's not so much any specific project that a developer wants approval for (although it's that, too), but rather lots and lots of tiny policy decisions: the urban growth boundaries laid out in the five-year review of the regional plan, the height limits of one side of the street compared to the opposite side of the street, like that. Collectively, these tiny decisions will mean more to most developers than any one specific project ever will.
Some of the most notable developers and development companies that contributed to Savage's campaign are: South West Properties, Cresco Developments, ParkDale Developments, United Gulf Developments, Fenwick Developments, Castlehill Development, Dexel Development, Youssef Ghosn, Andrew Metlege, Joe Metlege, Wadih Fares, Bay Rock Development, Westwood Development, Nassim Ghosn, Francis Fares, Siteworks Development, Fairwyn Developments, Mythos Developments and Polycorp. But that's just the short list. There are lots more, and especially a lot of development services companies, like electrical and surveying companies and the like.
Road construction and landfill. I could make another very long list here, just as I did with development companies, but let me just list one firm: Dexter Construction, which has its hand in plenty, probably most, road projects, construction at the landfill, sale of land to the city and other enterprises that involve getting city contracts. The same issues with construction apply here: small changes in city policy can result in huge profits for Dexter.
Pushing out less-connected candidates
There's a bigger problem still related to these very expensive electoral campaigns: candidates who are less connected, or who favour policies not welcomed by the business class, can not compete. It skews our entire political process in a business-friendly direction, more than what would be warranted by a judicious electorate. A candidate simply can not get his or her voice heard, unless he or she can get the big money contributions from corporations.
We must find a way out of this. Probably the way out entails some form of government financing of campaigns, coupled with limits on expenditures and requirements for earlier and more detailed campaign finance reporting. Those details can be worked out, but only if people take the issue seriously.