From public housing to transitionary housing, shelters and housing supports or just the notion that spending more than 30 percent of your income is considered unaffordable, much of the inaction on affordable housing comes from the lack of a firm definition.

At two information sessions at Halifax North Memorial Public library and Halifax Central Library last week HFX Collective set up shop to ask Haligonians their opinion with an online survey, and answer people's questions. The collective, a youth-led organization, is working to give the public more reliable information and data around affordable housing.

HFX Collective's founder Alfred Burgesson says "people are confused right now on what the definition of affordable housing is, and people are confused on who we are building affordable housing for."

Affordable housing is a huge umbrella term tossed about by advocates, developers, councillors and activists. And as the city's mega-plan for zoning and development makes significant moves forward—10 years in the making—the role affordable housing will play in new guidelines set out for developers is still up in the air.

At a committee of the whole meeting last week discussing the first parts of the plan, staff recommended rescinding a previous recommendation to only accept affordable housing units on the site of development and work with Housing Nova Scotia to administer those units.

The Centre Plan now recommends to only accept money-in-lieu for affordable housing. If ratified by Regional Council tomorrow, council will decide—among a ton of other site- and developer-specific amendments—to direct 60 percent of public benefits from the incentive or bonus zoning requirements to affordable housing initiatives, which are currently undefined.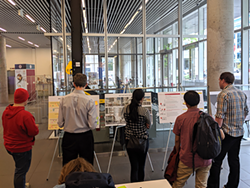 At the information session, HFX Collective was explaining that the 60 percent comes from fines new developers will be charged by the city for going over a certain height or zoning requirements on new developments. Heritage properties being the exception: 90 percent of the value can be directed to heritage conservation on the site of the development.

Jill MacLellan, an HRM policy planner whose main focus is affordable housing, was at the information sessions to answer questions. She says that right now the city is providing minimal funding for affordable housing—housing traditionally is a provincial responsibility—and that the definition coming from organizations like Housing Nova Scotia or CMHC of affordable housing is "still not affordable for most of the community," says MacLellan. "There still needs to be subsidies on top of that."

A notice hanging inside the Victoria Hall building at 2438 Gottingen Street to advise residents of possible high-rise development in the back of the historic front lists affordable housing as one of the good things the development could contribute to the area, but what it would look like and who would benefit remains unclear.

"We need to figure out what affordable housing is. As developers are starting to offer more affordable housing as part of their developments, we need to know what that means and know what we're getting" says MacLellan.

HRM spokesperson Brynn Langille says changing from mandatory units to cash-in-lieu for affordable housing in the Centre Plan can help create more long-term affordability by directing the funding to non-profit housing developments.

As a small part of the municipality's mammoth attempt to re-write some more than 50-year-old development and land use by-laws, if council ratifies the committee of the whole's recommendations, council will be asked to direct staff to return within a specified time frame after the adoption of the plan with an administrative order that would outline how the funds would be administered.
Burgesson says HFX Collective's survey will be available all summer, and it'll be sharing the results with HRM and the province.

Completion and implementation of the Centre Plan is still a ways away, but if the long list of developer-specific amendments at last week's meeting mean anything, it's that developers have decided it's time to start paying attention—the plan appears to be moving forward with gusto.