The crisp freshness of a new year is here, a blank page of possibility awaiting. New notebooks are cracking their spines as plans are hatched and goals are set out in permanent ink.
As the calendar flips, there's no shortage of things Halifax could choose to focus on, from enabling food security to keeping the rent cap.
But, as 2023 dawns, I've got some particular visions and dreams for the city's arts and culture sector. Here are my biggest hopes for the 12 months ahead of us:
I hope Hopscotch Festival is just getting started
Yes, things went wonky for a bit there for Hopscotch Festival in 2022, with event headliner JPEGMAFIA cancelling his hurricane-rescheduled show hours before he was slated to hit the stage. (In a flurry of social media posts, both the artist and the organization blamed the airline. He'd eventually play a Halifax gig on Dec. 10.) But! Let's not forget that last year, the city's largest celebration of hip hop brought three of the biggest MCs in the game (alongside JPEGMAFIA, it also produced shows by Conway The Machine and Freddie Gibbs to town for raucous, sold-out shows that were some of the best concerts of 2022).


Considering it's also a fest that built its name on tons of free or affordable all-ages entertainment—and that it's always shone a light on local MCs at all stages of their careers— it's easy to remember why it's one of the city's most exciting annual events. Here's hoping that 2023 sees the fest pulling in even bigger stars. Just sayin', but both Chief Keef *and* Migos member Offset are slated to drop new records this year. Time to manifest!
I hope Jody Upshaw drops a new album
Last year marked itself as Upshaw's almost from the jump: Her song "Straight Shooter" was featured in the season premiere of Euphoria last January, with the track being added to the HBO hit's Spotify playlists. (She went for a nap and missed the episode as it debuted, she confessed to The Coast the next day: "I woke up to so many notifications—because everyone my age was watching it," she said.)
By the time summer rolled around, she was in the running against a handful of other local musicians for the 2022 Music Nova Scotia Artist in Residence, a 12-month opportunity that provides $20,000 in cash and prizes, along with professional mentorship. A live concert with the finalists was the deciding factor, and Upshaw walked away from Grand Parade as the winner. (In between these two major gets, she took home the African Nova Scotian Music Association's Rising Star award and a handful of ECMA nominations.)

Fans of her Carly Rae Jepsen-meets-Black Star Kids sound have waited long enough for a full set of songs from the R&B mainstay, and have gotten by on singles since 2017. So I'm setting my stall out early: I hope in 2023 she feeds our hungry ears with an EP or even an LP of new, original tunes.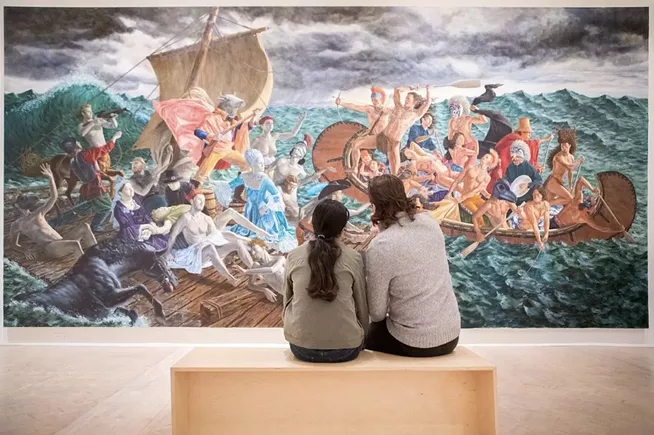 I hope that the Art Gallery of Nova Scotia has a calmer year
The provincial art gallery deserves some chill after all its been through in the past 12 months: The gallery's CEO was ousted in February, announced via a release sent on a long-weekend Friday at 4:18pm. ("We need a new type of leader for the new gallery, someone that is experienced in running a gallery of that calibre," Grant Machum, acting board chair, told The Coast that same afternoon, when I called him for comment. Ouch.)
Then, just as ground was slated to break on the ambitious new Waterfront Arts Centre—a complex located at what's now a parking lot at the end of Salter Street that would house a new AGNS, and would be the first time Nova Scotia had a purpose-built home for visual arts (instead of an available historic building like its current 1723 Hollis location)—a surprise announcement arrived from the provincial government: Tim Houston put a freeze on the province's promised investment of $70 million. Without the province's backing, the project didn't have enough funding to go ahead—even though the city pledged $7 million to the effort earlier last year, forking over $4 million more than staff reports suggested.
Meanwhile, the fall session at the legislature saw some significant changes in the gallery's day-to-day operations: Amendments to the Art Gallery of Nova Scotia Act shaved the number of gallery board members from 19 down to between 13 and seven in an attempt to streamline processes. Additionally, the Crown corporation saw its employees "move from the civil service to the broader public service to become direct employees of the gallery, which is consistent with other Crown corporations," as a release noting the changes puts it. "The Minister will also approve the hiring or termination of the CEO, following a board recommendation."


Both the gallery and the provincial government (by way of both AGNS interim director and CEO Sarah Moore Fillmore and Pat Dunn, minister of communities, culture, tourism and heritage) have confirmed with The Coast that plans for a new gallery are still a go. It's just when that's in question, as the province won't recommit to the project until it deals with Nova Scotia's health-care crisis.


I hope a date is set in 2023—and in the meantime, that it continues to treat our eyeballs with world-class culture.


I hope we all get home safe from the gig
Halifax's venue crisis continues—a shortage of places to stage shows that's been a decade in the making, meaning 213 days of artistic activity lost or delayed, as experts tabulated. Yet, live shows have, mercifully, returned to us, with big names decorating calendars for January and February. A couple of new venues have appeared and have potential to take some of the pressure off existing spaces, namely: The Light House Arts Centre (located in the old World Trade and Convention Centre, a sprawling, multi-use building that's so far seen Freddie Gibbs and Serena Ryder perform) and, to a less-proven extent, Steele Wheels, the museum-slash-performance-space that car tycoon Rob Steele recently opened. (Steele Wheels opened in December and is currently home to the travelling museum exhibition The Rolling Stones: UNZIPPED. It has yet to stage a concert but is billed as a future venue.)
And while both venues should be filed under Good News, there is one caveat: What good is a concert venue if there's no reliable, well-lit public transit options near it? (This is a particular consideration for Steele Wheels, located on a side street in Bayer's Lake—66 Otter Court— a part of town where pedestrians are such an afterthought that large swaths of road simply don't have sidewalks.)
If half the population (as in, those with oppressed gender identities) don't feel safe leaving your venue, they won't come to your show—no matter who's playing. If Halifax wants to be a hub of arts and culture, setting up well-lit, frequently serviced stops near venues (or moving venues nearer to bus routes) is a no-brainer.


I hope a major American movie sets up shop in the city
A little anecdote about one of my favourite downtown cafes goes like this: It was the peak of Robert Eggers' filming of The Lighthouse, and, as a result, the entire city was on the lookout for Robert Pattinson. Except for the older gentleman who owns this particular cafe, who must not have recognized the star when he happened in for a coffee. "Do you do sandwiches?" asks Pattinson, someone who probably hasn't been told "no" since he played Cedric Diggory in 2005. He receives a blank stare and directions to the nearby corner store, where he might get lucky and find a questionable egg salad.
While these pandemic years have been record-setting for the film industry in Nova Scotia—which the government says contributed about $180 million to Nova Scotia's economy in 2021-22, an increase of nearly 100% from the year before—we've been missing a flashy, out-of-town production like The Lighthouse. (And if you think I'm forgetting the Disney+ series Washington Black, which shot in the city's south end last year, I'm not—rather, the way it shut down Young Avenue for a whole afternoon is proof of our voracious hunger for these sorts of shoots.)
Residents collectively keeping an eye out for a big-name celeb while a big movie shoots here—and then seeing that same movie get a major theatrical release and maybe even a stab at the award circuit? It'd be irrefutable proof that Nova Scotia film is rebounding from its recent rocky past—and is driving into a star-paved future.