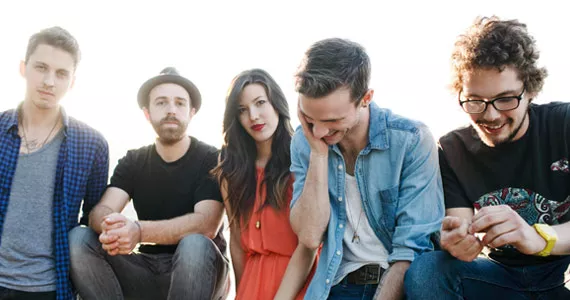 It doesn't matter to the Vancouver five-piece what you think of when you hear the title of its new album Hawaiii (add an extra "I"), but only that you do think, period. "It's an evocative word and we felt the songs were fairly evocative," says Tyler Bancroft, half of the songwriting team. "We wanted a word for the record that brought up the same visceral reaction---people just hear the word Hawaii and think of something. Some people think shitty touristy American place, some people think paradise to end all paradises...regardless of the reaction, it's a reaction."
When you put it that way, it pretty much sums up the otherwise hard-to-pin down sound of Said The Whale. Self-identifying as "consistently inconsistent," the songs Bancroft and Ben Worcester write flip-flop between genres, refusing to conform to just any one thing. It's part of what makes the band so endearing to fans but also what labels have been wary of marketing in the past. "It could be two different bands but it is the same band," says Bancroft. "Our willingness to skip out of one genre and into the next without missing a beat, it's fun for us, but can be confusing for new listeners---like what the fuck is this? Nineties rock band, then Bon Iver? Like, what's going on?"
Hawaiii houses what Bancroft deems STW's "loudest, popiest, hookiest song" to date, next to "the most mellow tender songs we've ever written." Even that first single "I Love You," as infectious as it is, has more brewing beneath the surface than a first listen might reveal---lyrically, it's exploring the confusion of discovering you have two half-siblings.
It's that play between dark and light that comes naturally to Bancroft, whether intentional or not, as life's anxieties creep into his music or, as he puts it, "all of that horrible shit that comes with approaching 30 and feeling insecure." Something our generation seems keenly able to relate to---not as grown up as maybe we expected to be by now. "I don't feel at all grown-up or mature or self-sufficient," he agrees. "I still have to ask my parents for money sometimes, I'm lucky they can help me out when I'm in need. It's a horrible fucking feeling to be this age and have friends settling into careers and buying apartments and shit, and I'm driving across the country, not feeling like a contributing member of society or feeling like I've made anything of myself in that way---wishing like I could be a man and not feeling like that at all."
But, levels of success aside, if Bancroft wasn't making music he'd just be wishing he was, he says, likening songwriting to a heroin addiction. "Music is like the source of the most anxiety, the most disappointment, the most heartbreak, the most horrible times, the most sleep deprivation, the all-around unhealthiness...but at the same time the source of the most joy and triumphant happiness I've ever experienced."
It's these kinds of melancholy thoughts edged in hope that find a strain throughout Hawaiii, softened at times in deceptively danceable beats, and ends on two of the saddest Said The Whale notes yet, "Hopeless Son" and a new version of "Weight of the Season," which Bancroft says was partly about sequencing, and because there's nothing wrong with being a sad sack. "Life is sad a lot of the time, it's OK to be sad. Embrace what makes you sad, accept being sad, people shouldn't be ashamed---if we were happy all the time it would be fucking miserable."
---
Said the Whale
Friday, November 8 at 7:30pm, $20/25
St. Matthew's Church, 1479 Barrington Street