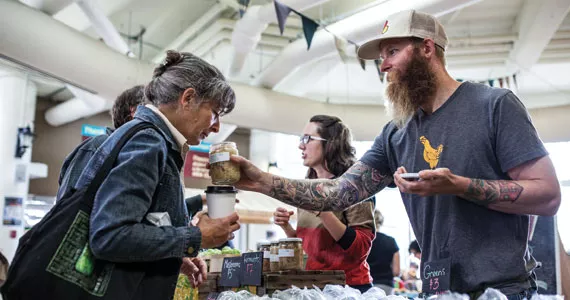 Four years ago Jamie Tingley moved to Cow Bay. "I moved here for the surfing," says Tingley. "And then I kind of fell in love."
The object of his affection: farming. With his partner, Sarah Fisher, he started Off Beet Farm, a small-scale vegetable farm overlooking the bay. "We'd always had little garden plots," he says. "And we kept kind of getting more involved with it, and realized the potential of it and how much you can grow in a small space."
While Cow Bay is definitely known for its surf, when it comes to farming it's not exactly Nova Scotia's most prestigious turf. "It's not awesome farmland at all," Tingley says, but there is history there. "At one point Cow Bay used to supply a lot of Halifax with vegetables and meat. I hear stories of it from some of the old-timers out here."
Tingley and Fisher are living and farming on just under an acre of land. They are also using borrowed plots from neighbours—"incredibly generous and supportive neighbours," he says—who live on old farmland. "It was land that I guess past generations had farmed on out here, which is great," he continues, "because there's not a lot of that to be found out here anymore."
Not having grown up on or around farms, this is a whole new world to Tingley, a mental health nurse, and Fisher, a graphic designer. One of the biggest challenges, says, Tingley was "just learning how to farm."
"If you didn't grow up in it, it's difficult," he says. "A lot of people really recommend that you do internships and spend a couple of years working on a farm before you undertake going to your own. We didn't. So there's been a whole lot of trial and error."
It was an ACORN Conference in Dartmouth that helped bring farming into focus for Tingley and Fisher. ACORN—the Atlantic Canadian Organic Regional Network—holds an annual weekend-long conference and tradeshow where farmers and sector businesses share in discussions about topics like food security, season extension, specialty crops, financing, and markets. This year the ACORN Conference is taking place in Halifax from November 12-14 at the Marriott Harbourfront Hotel.
"That was incredibly inspiring for us," says Tingley. "It was networking and talking to other farmers and going to different presentations and realizing that there is a way to make a living doing this."
That huge challenge of being new farmers has never been lost in the excitement of bringing Off Beet to life. Tingley credits the fact that he has another job, that he has an outside income to support small-scale farming, as an important part of the foundation of not only the success of Off Beet Farm, but the mere existence of it.
"The startup fees alone are very expensive," he says. "Even just seed costs. Buying good seed isn't cheap." Not to mention the land itself.
Thankfully, the ACORN Conference also introduced them to other young farmers who would mentor and work with them. Shannon Jones and Bryan Dyck from Broadfork Farm in River Hebert were two of those farmers.
"When we met them we really realized you can farm and you can live off it as long as it works with your lifestyle and if you can keep your expenses low. You're never going to make a lot of money doing it, that's for sure. People think you might, but," he says, pausing, and laughs. "No."
But in farmers like Jones and Dyck, along with David Blanchard and Cindy Rubinfine at Pleasant Hill Farm in Pleasant River, Tingley sees people who are making a success of farming alone.
"Both of those farms are really doing some cutting-edge, really good stuff," he says. "They are definitely people that know what they're doing, and have been very good mentors."
With Pleasant Hill Farm, Tingley was able to collaborate on a mushroom crop. With Broadfork, they worked together on ginger. "Ordering gets expensive, so you've got to find people to work with. You're not competing with other farmers, you want to work together and encourage each other."
Off Beet's collaborative buys with the other farms are important to Fisher and Tingley, as they are also interested in crops that might be considered a bit unusual in Nova Scotia: they want to live up to their name.
They've been growing crops like ginger, hot peppers and peanuts, tomatillos and mouse melons. Tingley is currently devoting himself to mushrooms, like the pink oyster variety he brought to their stall at the Alderney Market this year.
"Sarah is getting more into the cut-flower market, really enjoying dahlias, different wild flowers and some edible flowers," he says. "We've worked a little bit with The Canteen, the restaurant in Dartmouth. Renée Lavallée just won Gold Medal Plates"—a competitive chef event which benefits the Canadian Olympic Foundation—"she had some of our stuff on that plate. She had some edible flowers on there and our little mouse melons."
While staying small is a priority, strategically partnering with restaurants is something they also want to explore more. With Lavallée's success at The Canteen using some of Off Beet's cool crops, Tingley sees nothing but opportunity for growth and creativity. "We'll have discussions with Renée in the winter. We like going through seed catalogues, but if there are some herbs—and we did a lot of herbs this year, like shiso, papalo, and herbs that are harder to find or more exotic—we'll talk to her about what things she'd really like to have grown.
"If chefs want things and are really interested in having things grown on a really small scale we can do that," he continues. He wants to make every year at Off Beat better, and to learn as much as possible while working towards getting certified organic. "I'd love to go into full-time farming. So would Sarah," he says. But they also don't want to over-extend the farm. "I think our goal is always just going to be to grow very high-quality vegetables."
It's obvious Tingley loves the farming experience. "It becomes a little addictive and challenging," he says. "In many ways there's this sense of 'What can we do? How can we do it? How can we do more? How can we make it bigger, better? How can we make it more exciting?' There are a lot of vegetables you can grow here."
Off Beet's season is from May to November. In the winter they take some time off. "Farming can give you a nice break in the winter. The seed catalogues arrive soon so you start thinking and planning, but if you plan it well you can get some good time off in the winter."
But with harvest season at Off Beat coming to an end, another season is starting in Cow Bay. "I'm primarily a winter surfer, so that season is kind of starting now. I want big waves. Maybe this weekend," Tingley says. "I'm hoping."
---
Off Beet Farm
Cow Bay, NS, offbeetfarm.com