Cassie Latta-Johnson is living the dream: using her sharp-shootin' photography skills to snap gorgeous portraits of Halifax's canine companions. For the last three years Latta-Johnson's company, Wet Nose Images, has been building a pup-folio of dandy doggos; filling up its heckin' cute Instagram with great photos of the city's best good boys. Latta-Johnson recently spoke with The Coast about Wet Nose, assistant Ruby and the secret to a great dog photo.
The Coast: How did the idea for Wet Nose Images come about?
Cassie Latta-Johnson: Well I've been into photography for a long time. Probably about 10 years ago I realized that dog photographer was actually a career that one could have, but it seemed like a crazy pipe-dream that was just fantasy. Maybe about five years ago I decided to really try to make it happen. I went to NSCC for photography as well, just to get a good solid base to what I had already learned on my own. Then I went into business when I was ready.
Do you prefer dog photography to people photography?
Absolutely.
Why's that?
I feel like I get along better with dogs than I do with people. Dogs also aren't self-conscious, so they're a lot easier to photograph. They're just happy to be there.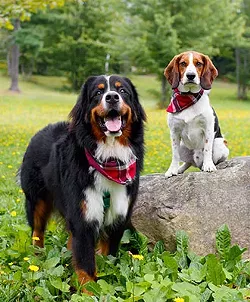 Some dogs are camera-shy, though.
That's true, but I don't think it's the same as worrying about having a double-chin or things like that. If they're worried about the camera I pull out some treats and toys and we work up to it.
Walk me through a session: if somebody books you, what happens?
For my standard session we would set up a date to have our first meeting, to make sure both of us feel that we're a great fit and we're on the same page and know what they want out of it. I show them the kind of products I sell—which are large wall art, like canvases and framed prints and I also sell coffee table albums. Then we'd sign the contract, choose a date, and have that session. Then afterwards, about two weeks after I've edited the best photos, we meet up again and I show them so they can see them all nice and pristine. That's when they decide which ones they'd like to purchase.
Most of your shoots are done outdoors. Do you have a particular favourite location?
Point Pleasant gets requested a lot, but I really like Fisherman's Cove down in Eastern Passage. There's a boardwalk and long grass and a little beach and colourful buildings. It's really cute.
What's the secret to taking a great dog photo?
Treats, for sure. Also, patience and just being willing to wait if the dog isn't comfortable or is distracted. You get them in place, I get my settings ready on my camera and then I just kind of wait for a minute until they look at me. Or pull out a squeaker. Those work too.
Do you prefer working with any particular breeds?
No, I'm not particular. I have a bully breed myself—a pitbull—so part of my heart is with them. But I pretty much love all of them that come through.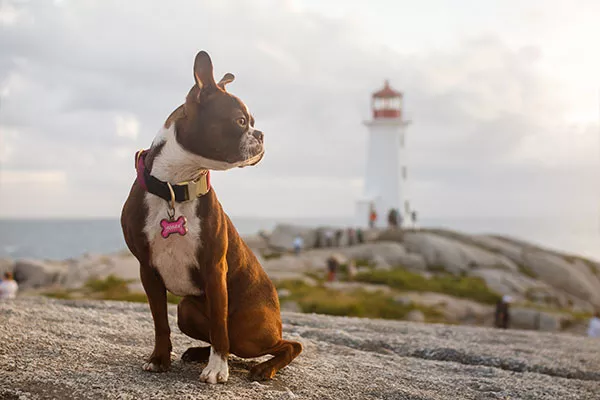 I was going to ask about Ruby. What's she like?
She is a goofball, but really smart. I know every parent says that about their kid, but she is super smart. She loves working for treats. She's a great little model for me. I kind of trained her as soon as we got her, that if she sits and lets me click the camera, she gets some hot dog. We got into that routine and now she's totally much more patient than she used to be. She'll help me practice a new lighting set-up or a new technique I want to try and she'll just sit and wait and get treats every once in awhile.
You're also expanding your photography to cats now?
Yeah, I'm just opening that up. I'm not sure how much interest there will be, but it will be different because most cats will be photographed indoors. They also have different personalities.
It does seem to be quite an adjustment from dogs.
I'm thinking that for the most part, the people who would hire me for this type of thing probably have the type of cat that is more friendly and laid-back. However, that's not necessarily going to always be the case. But I have a feeling it might be.