You've no doubt heard the buzz around the grassroots movement coined Idle No More that has created mass mobilization of Aboriginal people and people of all colours and backgrounds nationally and across the globe. The beauty of a grassroots movement is that it's made up of people who have the most invested in it, the people who live it day-to-day---their needs and priorities are continuously at the heart of the movement. This grassroots movement was initiated by four women activists in Saskatchewan, during a teach-in they called Idle No More. The women used the term in response to the Conservative government's introduction of the omnibus budget Bill C-45. Through the power of social media, the #IdleNoMore hashtag and banner created an uprising of "Facebook activists" who soon took to the streets for peaceful protests and rallies. The INM movement is continuously visible on social media sites, as well as in the traditional media, and has spread across the country, and globe, like wildfire. INM in the Maritimes has continued to grow despite mainstream media skepticism that it would lose momentum and fizzle out over the holidays.
To the disappointment of its critics, INM continues to pick up momentum and direction. Idle No More is a crucial and ongoing call to action for First Nations and Canadians to make this country a safe environment for our children and all other living things.
At the forefront of INM is the protection of our waters and lands. Included in Bill C-45, now the Jobs and Growth Act, were changes to the Navigable Waters Protection Act which drastically reduced protection to waterways and lakes. First Nations people are alarmed because the changes have been made without adequate consultation with First Nations and the rest of Canada.
There are other changes to bills and legislations that the Conservative government is pushing through in the near future that directly impact our environment and water- ways that are of great concern. This is why INM continues to reach out to the public.
There has been an outpour of concern and support from Canadians who have aligned themselves with INM here in the Maritimes. Non-Aboriginal allies in the Halifax area include members from Common Causes, Solidarity Halifax, Council of Canadians, Clean Nova Scotia, NSPIRG, Federation of Labour Unions, Dalhousie Student Union, NDP and Liberal MPs, scholars, lawyers and many more.
Through their overwhelming support for Idle No More, our allies have shown that Canadians care about our future together in this country. Common Causes launched its Nova Scotia chapter during the recent Idle No More walk across the Macdonald Bridge, pledging to stand with with INM in opposition to the Harper government's omnibus bills.
Although Idle No More is a political movement, it has shown many side benefits. It has shed light on the true history of Aboriginal peoples and the state of Canada. The movement has highlighted other ongoing issues such as the chronic underfunding of First Nations housing, education, health, economic development and related issues. And we've been able to combat the ignorance about First Nations people and taxes: of course we pay taxes!
What is unique about this movement is that this is the first time in Canadian history that First Nations people and their Canadian allies have stood in solidarity nationally. INM is a long-term social movement. It is not a sprint, but a marathon. It's a marathon millions are willing to partake in.
The mainstream media says that Idle No More is solely a First Nations issue. But if people would take a moment to listen to what the movement is saying, and learn about the issues we are discussing, they'd quickly realize that Idle No More is an issue that effects every Canadian.
Canada's future is in danger. Will you help to protect it?
---
click to enlarge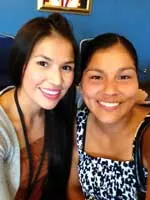 Shelley Young is an Idle No More organizer and university student whose passion is to protect the waters and lands in Canada. Molly Peters is an INM organizer and works as an Aboriginal student advisor. For more information please see the INM founders' site: Idlenomore.ca
Send your essay ideas for consideration to voice@thecoast.ca