I headed to the Marquee to see a couple stylish indie bands in Hell's Kitchen, and generally stray back and forth between floors showing off my press pass. I caught the last couple songs of The Love Machine, who've got this sort of timeless movie credit thing going on with their music, that sounds like it's going somewhere. They're all dressed in dress shirts and vests, too, except the drummer, who wears suspenders, and this is all right with me.
click to enlarge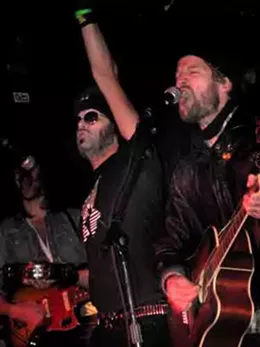 I only meant to spend a minute upstairs while the band downstairs set up, but ended up staying for most of The Golden Hands Before God's set. The band's personal style is best described as somewhere between punks, truckers, and the Russian army. What I caught sounded like loud, rambunctious country-tinged classic rock—not usually my style, but they got me with the arresting stage presence.
click to enlarge
And nearly tricked me into missing Mt. Royal downstairs in Hell! I wanted to describe this band as 'dance hardcore', and if that doesn't make sense, it's because I was blinded by their glittery drum kit. They reminded me a lot of our own (sadly missed) Sharp Like Knives, who used to describe themselves as something like 'a dance punk assault', which would be apt as well, though their sound is a bit heavier. They had two drummers, one of who is wearing a t-shirt for my favourite local band, The Stolen Minks. I'm sold. I want to see this band play again tonight, and tomorrow, and maybe every night. They may be named after a hill in Montreal, but they're from Medicine Hat, which doesn't make any sense to me.
I have an awkward half-conversation with the Minks fan drummer at the bar afterwards about how The Stolen Minks are great, and how I think I saw that Mt. Royal was playing with one of my friends' bands recently, but I can't remember who or where. She doesn't remember playing with any Halifax bands, and I look like a fool.
click to enlarge
I'd wanted to see Montreal's PARLOVR at Pop Montreal and didn't, because I was seeing something else, or still in Halifax. They sounded, well, like Montreal. I had high hopes, due to hype I heard in Montreal, and how obviously at least one of the members had studied Latin. (It's pronounced "parlour," and Roman engravers used to write U as V because it was easier to carve, which is why you see buildings engraved with MVSVEM and VNIVERSITY, because the designers have classical pretensions, not because they can't spell.) There's another name I can think of for Parlovr's music, which is 2005. I'm sitting on the floor of my freezing bedroom at my old place on North Park Street with a friend, hiding out from that 18-year-old roommate I couldn't stand, we just listened to this hot new band called The Arcade Fire, and my friend says, "Hey, check out this album now." Their music is tight, but I'm just not excited by this any more.