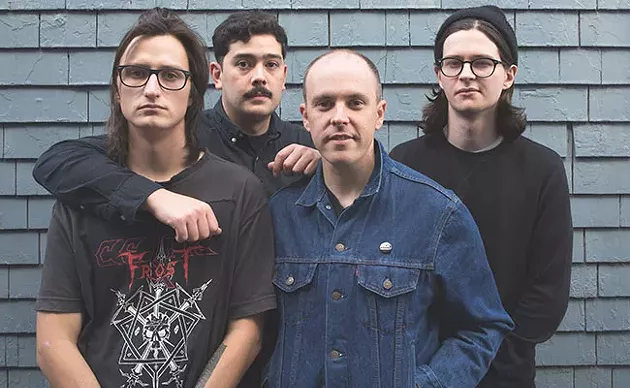 Washing Machine release w/Booji Boys, Surveillance, Valerie
Thursday, April 5, 10pm
The Seahorse Tavern, 2037 Gottingen Street
$7
Noel Macdonald would never say it, but Walk It Back, his first record with the new-wave inspired band Washing Machine, feels like a big deal. Macdonald has been playing in the local scene for years—with Moon, Long Weekends and Don Lovely, to name some—but says Walk It Back is different. With his other projects relatively dormant, Macdonald saw an opportunity to "indulge [himself] in the process of making a record." He wrote, mixed and financed the record on his own, and many of its songs stem from places of vulnerability deeper than ones he's mined before.
"I've never really done it this way before," he says. "I was writing music for bands that didn't quite work out...so I thought, 'I'm gonna go into the studio with some folks who I know who can at least commit to going and recording.'"
He began recording with drummer Nathan Doucet and bassist Matt McQuaid, who laid down a rhythm section for Macdonald to build his post-punk and power-pop songs atop. Now, nearly two years after beginning the record, Macdonald and the rest of Washing Machine—Tom Burke, Dylan Chew and Cody Googoo round out the live band—are celebrating with a record release show at the Seahorse on April 5 with Booji Boys, Surveillance and Valerie.
Walk It Back sounds gorgeous, its slippery guitar leads and forceful rhythms indebted to '80s bands like the Smiths and Martha and the Muffins. Macdonald's own recording process was solitary and meticulous—he describes hours spent finessing lyrics and guitar tones and recalls a weekend spent recording vocals at a pal's cottage until his neck muscles ached.
In conversation, there's something innocuously tongue-in-cheek to how Macdonald speaks about his project. He has a deep awareness of how pretense and artifice interact with the work of musicians, and acknowledges the hunger many feel to ascribe narratives to records and the artists behind them.
He might not name it explicitly, but his thinking about the record feels like an oscillation between the personal importance of this project and the relative mundanity of an indie-rock record in 2018.
Sure, Walk It Back is another record of Halifax indie rock; it's also a fully felt, beautiful album that feels like one of the most exciting local releases in recent memory. At its core, however, this record is an object of deep personal significance and vulnerability for Macdonald.
"When we perform, I really do want to feel the full impact of what the song means to me," he says. "These songs mean so much to me."