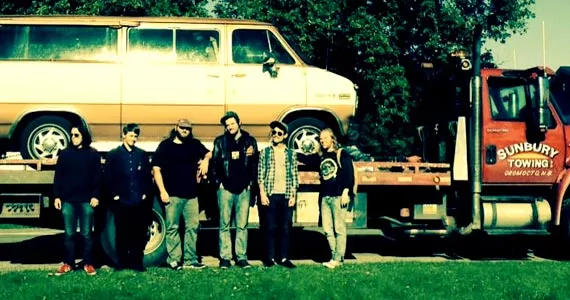 Psychedelic pop emerged as a musical genre in the mid-1960s from a culture of drug use and mind expansion. Trying to replicate in music what drugs did to the mind, bands like The Byrds and The Grateful Dead used fuzz guitar and reverb effects to refashion the tired pop song into something more relevant. More recent acts like the Brian Jonestown Massacre kept psych pop alive through the '90s. If Halifax in 2013 seems like an unlikely place to find a neo-psychedelic band, then Walrus may just have to blaze that trail.
"What appeals to us about the psychedelic pop aesthetic are the layers and textures that make up the songs," says singer and guitarist Justin Murphy. "It's not so straightforward. That's the fun part about the music we make, trying to make the sounds and textures as weird as possible while maintaining the borders of an accessible pop song."
In addition to Brian Jonestown Massacre, Walrus cites influence from bands like Spaceman 3 and MGMT. And of course, there's The Beatles. "The name Walrus was always a name that I thought was really cool," says Murphy. "And I guess that subconsciously came from The Beatles."
Releasing split cassettes like there's no tomorrow, this Halifax six-piece seems to be revving up for something big. Formed last year by brothers Justin and Jordan Murphy, Walrus has since tripled in size, performing with four new members as of April. Fresh off a tour of Ontario and Quebec, Walrus was back in Halifax for just a short time before duty called them back on the road to play at Pop Montreal.
While it might be tough for some Halifax bands to tour, with the next big city being 12 hours away, staying right at home isn't always a bad thing. "I think Halifax would have to be one of the top music scenes in Canada," says Murphy. "There are just so many good bands in this city." "And all shows are really well-attended," adds keyboardist Adam Gravelle. "Bands are well-supported here."
A new concert series hosted by CKDU 88.1FM's Halifax is Burning is one example of that support. "Halifax is Burning is a radio show committed to championing local music," says the show's host Trevor Murphy. "One of my favourite things to do with the show is to find new and exciting bands in the city and give them some radio play. This showcase is sort of in the same vein. I wanted to put together a line-up of great up-and-comers for a live show. This particular showcase is a test run, but if it goes well I'll be looking at doing showcases like this on a more regular basis." Walrus will be taking the stage this Saturday at Hell's Kitchen along with Night Surf and Saffrons.
And if you haven't yet checked out Walrus' latest split with local act Chief Thundercloud, you are missing out. The two new tracks are a feast for the ears. "Brian", with its warbly sound and sparse lyrics, has a washed-out dreamy tone that is undeniably pleasant. And "Little City People" is a perfect strolling tune, with a mellow but jaunty beat and an earworm-catchy melody. Murphy's reverb-heavy vocals lend an ethereal, distinctly California vibe. Walrus sounds of another time and place.
If you thought psychedelic pop went out of fashion with tie-dye and patchouli, think again.
---
Halifax Is Burning…
IN HELL w/Walrus, Night Surf, Saffrons
Saturday, October 5, 10pm
Hell's Kitchen, 2037 Gottingen
$5