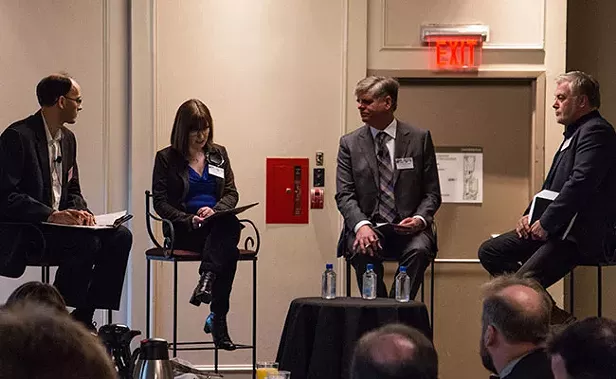 In front of a Westin Hotel ballroom full of Atlantic Canadian business leaders and politicians, a panel discussion on minimum wage quickly became about how—not if—Nova Scotia could hike its wages to $15 an hour.
The event, held last Friday, was facilitated by the Atlantic Provinces Economic Council to help flesh out the local complexities in a national minimum wage debate.
Finn Poschmann, president and CEO of the Atlantic Provinces Economic Council; Jordi Morgan, vice-president of the Canadian Federation of Independent Business in Atlantic Canada; and Christine Saulnier, director for the Canadian Centre for Policy Alternatives in Nova Scotia, all took part in the discussion.
Saulnier was the outlier of the three, advocating for an immediate bump up to $15. Her counterparts, however, say the province needs a much slower and more methodical approach that includes defining the objective.
"Is it indeed a poverty reduction measure?" asked Morgan, who spent much of his time tamping down notions that raising the minimum wage would help low-income workers.
It's a blunt, double-edged sword, he said. "It cuts both ways and it's effective, really, in neither direction."
Canada has recently been embroiled in a renewed minimum wage debate, with both
Ontario
and
Alberta
significantly raising their thresholds. But many experts remain divided on whether raising wages in a short period of time would be beneficial to helping low-income workers.
Other options like a working income tax benefit could be better at reducing poverty, said Morgan. The CFIB vice president also noted the
part-time job losses
recorded in the first month of Ontario's wage legislation, which was rolled out last month and increased the minimum from $11.60 to $14 an hour.
Businesses need predictability, argued Morgan, and sending a shock through the system with an immediate increase in the minimum wage would be too hard on them.
Saulnier pushed back on those notions.
"One month of job loss numbers in Ontario, it's not about the minimum wage," she said. "Saying those kinds of statements, it's just fear mongering."
British Columbia, she points out, increased its minimum wage in 2011 by 30 percent and
did not see
any significant job losses
.
"They were not there, despite the predictions."
In an interview after Friday's panel, Saulnier also said businesses wouldn't have much trouble absorbing the shock of a sudden minimum wage hike. Only about 40 percent of a company's costs usually go to labour, and a small portion of that is minimum wage
labour.
"There are other ways that businesses can absorb what is, at the end of the day, not a significant increase."
Nova Scotia's minimum wage will increase by 15 cents to $11 an hour on April 1.