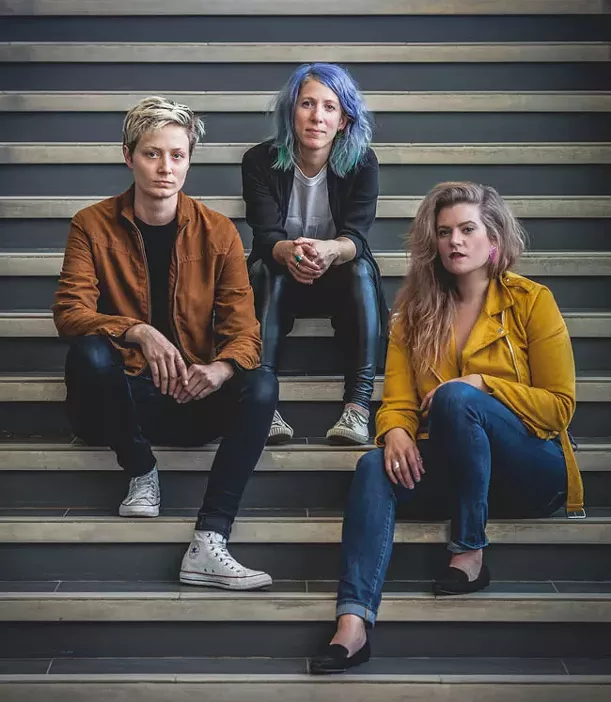 MO KENNEY

Mo Kenney is reserved and unassuming, a quietly quick wit. She saves it for the stage, as the saying goes—her demeanour is not one of meekness or deference to any of the men in her band, but of a measured confidence that borders on laconic until she leans into her guitar, a 1965 Mustang she had painted powder-blue. Her playing evokes all the cheesy guitar words—"rips," "shreds," "wails"—but really it's astonishingly dexterous and decidedly modest.
On September 29 Kenney released The Details, her third album with Joel Plaskett producing, and it is something new for her—scrappier and more electric, but also weirder. There are 14 songs; only two creep past three minutes, and five are under two minutes, punk-style.
"There's a lot of records that have short songs like that, that I really like; that it kind of transports me to a different world, it's not just like regular songs all the way through," she says over a beer, flagging Guided By Voices' Bee Thousand and Seth Smith's New Problems as examples.
She demoed most of the songs—some have a Sufjan Stevens-like voice-memo quality—before heading into The New Scotland Yard with Plaskett last year. "I'm not comfortable that easily with people," she says, "so it's nice to feel comfortable doing that, something so personal."
These Details are about "my struggle at the time with mental illness," says Kenney. "And I was drinking too much and trying to get a handle on everything, and I started to go to therapy and ended up feeling a bit better. The end of the record is hopeful." (The final track? "Feelin' Good.")
"It wasn't hard to write about it, it was hard to imagine releasing it," she says. "I felt really good about everything but when we got into the studio I was like, 'Shit this is very personal, and I'm going to have to talk about all this stuff.' Which I had a lot of anxiety about for a long time." She shakes the ice in her water glass. "But I feel OK about it now."
GABRIELLE PAPILLON
"As Gabrielle Papillon The Artist, I had a real sense of—I think I always have—heard these big sounds in my head, but always saw myself and I think other people did too, as a folk act," says Gabrielle Papillon, the person. "But really the music I listen to is large—it's Radiohead and it's Björk, it's film scores, it's very grandiose. Even the pop music I listen to—I love a good Adele record."
This grandiosity has been handily transported into her latest album, Keep the Fire, a much art-rockier affair than her previous efforts; the most recent two were also produced by Daniel Ledwell. Papillon also brought in Neon Dreams' pop wizard Corey LeRue to mix some of the songs—where the styles could clash, they complement instead, resulting in an album that shimmers and soars.
"For once, for me it was really very personal," says Papillon over a grilled cheese. She writes in bursts. "Lyrics and melody come at the same time. So I'll have this melody in my head and words will start attaching themselves—whether it's phonetics or phrasing, words will seem to fit," she says. "Usually I have to figure out what those words mean or what the song's about to finish it, and I think a lot of the lyrics on this record are so much about losing, losing things or people, being frustrated and being deeply sad. And also angry—there's so much shit happening right now, I'm just mad all the time."
The album was released in October with a pair of sellouts at the Bus Stop. A central Canadian tour followed, and Papillon's been spending more time writing and playing in the UK since her label, The state51 Conspiracy, is based in London. "We're still playing relatively small venues," she says of Canada, "but they were full."
Papillon conceived Keep the Fire—her sixth and strongest—as an art project, from the songs to the production up through to the purple hair she sports on the cover.
"There had to be weight in everything. And that makes me feel like I can stand behind it too," she says. "I don't question the value of my work, because I feel like I made the best thing I could, with as much integrity as I've probably ever put into something."
JESSIE BROWN
Jessie Brown is wedging in a coffee before she goes to her job, teaching vocals at Long & McQuade on Cunard Street. Sometimes she'll sing up to six hours a day, managing nearly 50 students. If there's a voice built for the challenge it's hers, huge and bluesy in a Joplin way. The dark, crunchy rock songs she writes suit it comfortably, never threatening to overshadow it, because what on a stage could. "I like to wail," she notes.
Brown released Keeping Appearances, her first proper full-length, in October. It's been two years of work. "Every part of the record has been waiting to save up for the next part," she says. The first single was pointedly titled "DEBT (We Ain't Got No Money):" "We ain't got no money/cause it's all just for show/and everyone without it knows that."
She flew in Jon Epworth from Victoria, rented a cottage in Aspotogan and set up camp for six days. She met Epworth, years ago a staple on the Halifax scene, in 2012 when he brought his Soul Mange record to town and asked her to sing in the shows. "You know when you hear a voice and you just picture the person?" she says. "I had no idea what he looked like but I was picturing this giant, giant man. And later learned he's this skinny, sweet, quirky man, to say the least."
Lyrically, Keeping Appearances follows the demise of a stormy relationship, it's about "trying to recover and find away to be OK. Sometimes if you've been in a situation where you haven't felt like you have any worth in quite some time, you find that after," Brown says carefully and quietly. "It's OK to be whatever you want to be—if you're feeling vulnerable that day, if you're feeling angry, all of those things make sense. Yet still trying to keep up a facade that everything's fine."
Her adolescent influences—Deep Purple, Led Zeppelin, Queen, Meat Loaf, Heart's Brigade,"the cheesiest album they ever made"—are evident on record, an energetic mix of dark guitar and operatic arrangements. Shy in person, she's a force live. "The stage is really the only place where I feel like I can be assertive, because I'm not really like that now," she says. "It's the only time I get to feel a little bit more like a warrior."