In June of 1994 I was 19 years old and playing in my first band, Thrush Hermit. We were shooting a video for our song "French Inhale" on the third floor of the Khyber building. I met and immediately fell for the video makeup artist, Rebecca Kraatz. We were married 12 years later.
By 2000, I was rehearsing with my new band, the Emergency, on the Khyber's top floor in Ultramagnetic Recording­—Charles Austin's new music studio. The skylight leaked, it was unventilated and hotter than Brisbane in January and we had to lug our gear up and down three epic flights of stairs.
It was perfect...and affordable. It was here we recorded our first album, Down at the Khyber, a reference to my favourite New Orleans singer Irma Thomas' Down at Muscle Shoals, the legendary Alabama recording studio that recently had a documentary made about it. The Khyber was our Muscle Shoals and the music we were making there felt as important and relevant as anything being recorded at Abbey Road or Capitol, if slightly scrappier and budget-conscious. At night we would head downstairs to the first floor Khyber Club to have a drink (or three), see a band (or be the band) and hang out with all the other artists, musicians, potters, freaks and locals. It was one of the happiest and most creative times of my life.
I don't know the full history of the Khyber. I know it has housed multiple galleries, Wormwood's cinema, a health food store, cafe, bar, music venue, record store, the Atlantic Filmmakers' Co-operative and dozens, if not hundreds of other studios and local businesses. This cross-pollination and variety of commerce and art in one building is very rare.
The Khyber is an incubator. It's not simply a bunch of struggling musicians and NSCAD students hanging out, waiting on some grant money. It's where people who occupy the fringe cut their teeth, launch their careers and find their community. Case in point; Charles' Ultramagnetic Recording eventually relocated and morphed into Echo Chamber Audio and is now the most active studio in town. Someone should start a list of all the people who've worked in the Khyber over the years. It would be very, very long and I suspect every citizen of Halifax would see a name they know on there. Can the same case be made about many other Halifax buildings? Maybe the Roy Building...wait...it's gone.
I understand the argument that suggests these ideas, businesses and art projects could incubate in a different, more modernized space but it's not that simple. The Khyber represents something bigger to the community. It's a mini-Greenwich Village or -Left Bank. Its history speaks to you through the floorboards and its presence downtown and on Barrington Street is crucial. Yes, the Khyber costs the city money, and it is easy to put a number on that cost that scares the city council. What is not as easy to tally is the wealth the building's occupants have generated and put back into the community over the years. Its community value is certainly far more than the four million dollars they are saying it will cost to repair the building.
As the historic Halifax we all love disappears in the face of "development," we have to find a way to preserve and hold onto the Khyber, whatever the price tag. To quote my wife Rebecca, "We still need to have one beautiful lady standing there."
---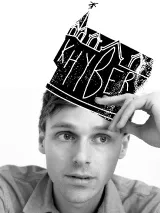 Joel Plaskett is a musician living in Dartmouth.