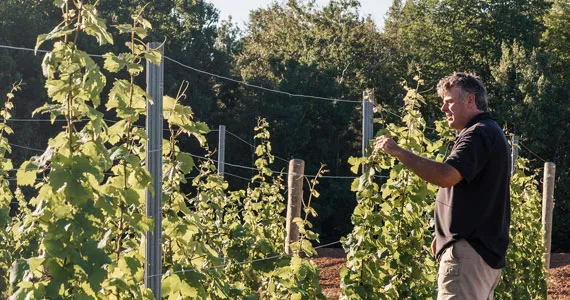 Sean Myles has been working on breeding new grape varieties since 2011, when he partnered with Hans Christian Jost—the then-owner of Jost Vineyards—on a cross of Muscat and L'Acadie Blanc grapes. An assistant professor at Dalhousie, Myles works in the Department of Plant, Food, and Environmental Sciences and is the Canada Research Chair in Agricultural Genetic Diversity. He mostly works with apples at Dal, but he's been working on grape breeding programs with wineries like Lightfoot & Wolfville, and growers like John Warner (see page nine).
Here's the thing: grape vines are clones. There is no genetic diversity in, say, a Chardonnay vine. There are no babies, no seedlings. They are vegetatively propagated: Vines grow from cut wood clippings, one plant becomes another plant.
"Chardonnay is one individual, it just happens to be spread across a lot of acres," Myles says. "So when you look at a big vineyard full of Chardonnay, they're all essentially genetically identical individuals. And Chardonnay is a variety that's been propagated for centuries and remains unchanged in character. It's static."
To put it simply, this is because grapes don't have sex. "But each of those seeds has a mother and a father," says Myles, "and if you control which pollen lands on what flower, which is what we did, you can create a new grape."
John Warner was looking for new ice wine grape varieties and grapes with intense aromatics, like the whites used in Nova Scotia's popular wine appellation, Tidal Bay. For his new grapes, he chose workhorse ice wine grape, the Vidal, and German varieties like Siegerrebe, Ortega and Perle. Crossing the plants is a long process and picking a winner is tough.
"Every one is different," says Warner, holding a cluster of tiny grapes in his hands. It's from a row where the vines have the same parents. They are a pale yellowy green, tightly bunched and dusted with blush. The grapes on the vine next door have none of the pink tinge. "Here's the Siegerrebe, getting into the colour there."
In another row, the grapes are exceptional. Each little globe is like a perfect sip of wine made solid. "Aren't those spicy?" Warner says. The grapes, while delicious, are thin-skinned, meaning they rot easily and attract wasps. "It's almost like a Muscat-y characteristic. That's what some of the winemakers are after, but we don't know if it's really a commercially viable grape to grow."
"It's exactly like humans," says Myles. "Just like you don't look like your brother or sister. But the difference with grapevines is that they're about 10 times more genetically diverse than humans. So you see this tremendous variation between the offspring of a cross between two parents. And just like if you had a family of 125 kids from the same parent, some of them will end up being Mozart and some of them won't. You want to pick the Mozart."
Warner says next year they will likely do tests with different wineries and get their assessments of 30 or 40 promising breeds. "We'll begin to experiment with those. If those become successful in terms of the wines they produce, then we'll begin to propagate some of those vines and stick with the ones that are proven."
"It takes a long time just to maintain this," Warner says of the small patch rows of research vines, a drop in the vineyard's huge bucket.
Myles is excited by the world. "In 10 or 15 years from now," he says, "we might have our own indigenous Nova Scotia-bred grape varieties!"