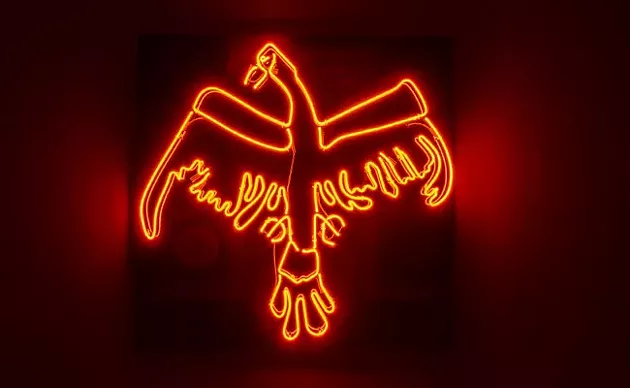 The Light Fantastic
To September 16
Art Gallery of Nova Scotia, 1723 Hollis Street
If you witnessed any of the events from the fall's RESPONSIVE: International Light Art Project (or have seen the final season of Sex and the City) the term Light Art might be familiar to you. If not, it is as simple as it seems: Artowrks that use light as their medium in place of paint, clay or other traditional materials.
For some artists in The Light Fantastic, now on at the Art Gallery of Nova Scotia, this is a direct material transition. In "Ingrid" (1969), Quebec abstract painter Jacques Hurtubise constructs a "light painting" by twisting and angling neon tubes and arranging coloured bulbs into a glowing canvas.
For others light is gestural—light is, of course, a moving thing. André Fournelle's "État de choc (Inter-Impact)" (1980) merges the speed of light with the speed of a car. Fournelle constructs a wall of neon bars to evoke a fence, positioning a double-sided arrow in between them to simulate the shock of impact, as though a car has smashed into them, and they curve and bend under the force of it.
Atilla Richard Lukacs' black and white installations blend reference and illumination. In an unorthodox moonscape, he paints light in the form of four black masses, with the words "Supermoon...on HOLE 14% magnification due to orbit, 30% percent brighter" written in pencil. Several of his other canvases and primordial sculptural assemblages—all of them white and dripping in black bitumen—feature clear neon lights as part of their composition. In his own words, Lukacs describes this as a sort of black and white forest illuminated by the colourless light of the moon.
Neon plays an interesting role throughout The Light Fantastic. At times it is just a tool to manipulate the shape of light, in others it is a highly intentional material with its own history and visual language. In Duane Linklater's "Tautology" (2011)—a word meaning "A phrase or expression in which the same thing is said twice in different words"—Linklater has replicated a Thunderbird image from Norval Morrisseau's monumental work "Androgyny." Morrisseau is one of the most copied artists in history—a Google search reveals a number of high-profile frauds. In his own appropriation of Morrisseau's thunderbird, Linklater's use of neon is stabilizing: We forgive the piracy for its translation into fresh materials, and recognize neon as a visual language of replicas, bringing to mind a Vegas strip full of giant neon cowboys and model Eiffel Towers.
We also understand how neon is inherently linked to commerce and advertising. Ron Terada taps into this in "You & Us" (2006), spelling out the words in humming yellow. Terada borrows the title from the corporate slogan of the company that sponsored the exhibition in which this work was first shown. Micah Lexier's "Duly Noted" (2013) also has a corporate connection: His grid of light boxes illuminating photographs of found objects was displayed in the window of Toronto's Louis Vuitton Maison.
Alyson Clay's windows are a little more provocative. In "Improper Perspectives" (2002), Clay's small videos have been installed at varying heights and depths, like the windows of an apartment building she films from a distance. The size of the screens entice the viewer to peer closely, becoming peeping Toms themselves, as the warm light of the interior rooms punctuates the darkness.
It can be difficult to divorce the language of art from that of painting, but in this case the comparison might be useful (and completely relevant in Hurubise's case). The artists in this show have all chosen light as a tool– for some it is the canvas, for some the material and others the subject matter. The effect overall, as the title would imply, is nothing short of fantastic.