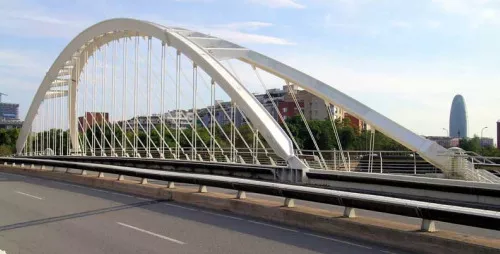 Bridge by Santiago Calatrava
I am on Concord coach 912, en route to Portland, Maine with a 90 minute layover in Boston.
Boston is the place of a sad day for me, in 2004 when I am on a bicycle trip. I had turned 50 in June, and to celebrate I buy a bike (beautifully made by Dave Nauss) and peddle down to the Carolinas. I leave on August 1, hobbled by the flush of a new love affair that colours my days and nights with longing for the intimacy and passion of the new love. (It went horribly horribly wrong later and I was a Mary Magdalene doormat for a terrible unlove.)
But before it went south, I do, and by the start of November the days are so short, it is dark so early and I am so out of money I turn around and head home. I take a train to Boston and my panniers arrive but my bike does not. The luggage guy tells me to come back the next day. I go out into Boston. It is very cold and very windy. I walk and walk and end up in a women's shelter for the night—maybe it was called the Pine Street Hostel For Women—I'm not sure. There is a compulsory shpwer and compulsory nightgown. I'll try to put in some more details later.
The next day I go back to the train station and my bike is there. I am catching a bus to Bangor, Maine and then Halifax. Because the bike is boxed I cannot carry it and the panniers at the same time. I take the panniers across the (huge, confusing) station to the bus section and have to leave them there in order to go back for my bike. There is a bus for Bangor leaving as I get to the lane with my bags and the guy loading luggage offers to take the panniers on this earlier bus and so they will be there in Bangor when I arrive on the later bus.
Nice. I go back and get my bike and then wait for my laterbus and then am on the way to Bangor. As we leave Boston I see a bridge by Santiago Calatrava is almost finished and I am happy to get a glimpse of it.
In Bangor my panniers are not there. They don't arrive that night or the next day and I never see them again.
I hope I see that bridge again today.