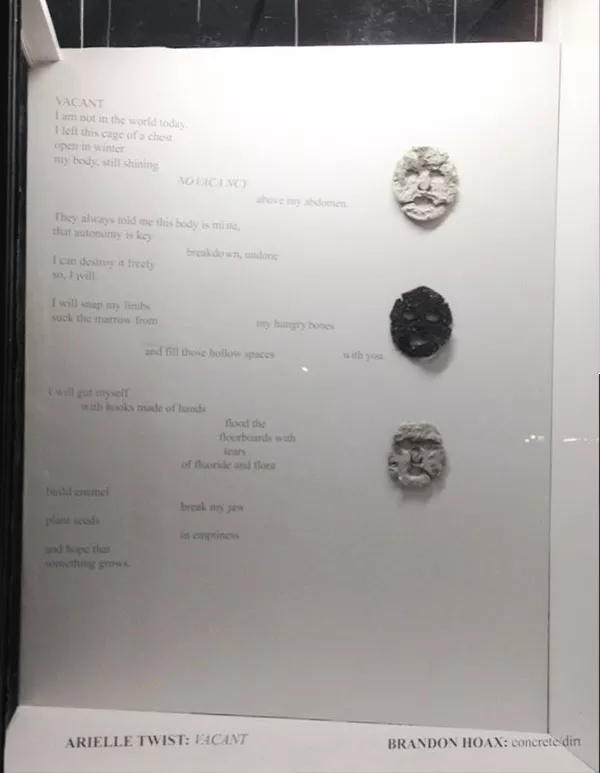 Ariel Twist and Brandon Hoax, Vacant Faces
To January 2019
The Khyber Centre for the Arts, 1880 Hollis Street

Christening the new Khyber Window gallery is Vacant Faces, a display of poetry by Cree writer Arielle Twist and sculptures by Haudenoshaunee and Onyota'a:ka artist Brandon Hoax. Though modest in size, the exhibition is eerie and intense.
Hoax's sculptures are gritty replicas of sheet masks made in concrete and compressed dirt, staring empty-eyed and open-mouthed from the Hollis Street windowfront. Twist's poem deals with feelings of dysphoria—not feeling at home in one's body—and is formatted in halting, jumping lines applied directly to the windowpane in white vinyl. Like Hoax's subversive use of materials, Twist's poetry is visceral: "I will snap my limbs / suck the marrow from / my hungry bones / and fill those hollow spaces / with you."
"This poem is talking about the destruction of the self while going through dysphoria," she says. "This is my body so I can destroy it too."
Both Twist and Hoax argue that this visceral quality is often the nature of Indigenous art. "Indigenous art is so painful, and so raw, and comes from a place of not only our own traumas but a generation of traumas," says Twist. But it can also be "very playful and fun," continues Hoax. "Even these masks themselves...the joke for me was they can be read as a weird art object or artifact, read as indigeneity, but in the end it's [just] a sheet mask. I can go to CVS or Lawtons and buy a pack of them."
Indeed there is something humourous about the wide-eyed dirt faces in the window, but Hoax's use of commonplace self-care product is even more poignant when paired with Twist's poetry. In both Twist's poem and Hoax's sculpture, the line between self-care and self-destruction is a fine one.