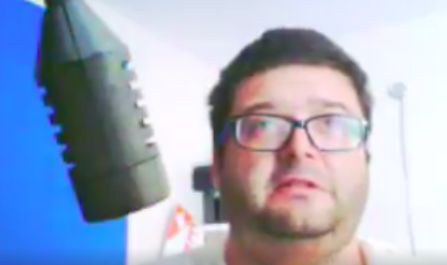 Update: Never mind. Boyd says in a follow-up video that he doesn't know if he's still running yet.
Like a mix between Alex Jones and The Brand Review, Paul David Fraser Boyd has crossed over from perpetually-unsuccessful political candidate into 'satire.'
The Dartmouth cab driver has ended his candidacy for mayor in October's HRM election via an announcement on Facebook made to parody the kind of videos kidnapping victims make before being executed.

Boyd speaks to a party off-camera, asking if he should stick to the script written on a tablet before making repeated rambling statements announcing his withdrawal from the election and reassurances that there is "no corruption" in government.
Two weeks ago Boyd also used Facebook to accuse mayor Mike Savage of ordering police officers to give him tickets, then warned residents to be on the lookout for voter fraud in the upcoming election. He later erased the posts and (for a time) deleted his account.
Halifax's mayoral race is fantastic: pic.twitter.com/WM7bHoQlpc

— Chris Parsons (@cultureofdefeat) August 26, 2016
A perpetual candidate, Boyd has made a habit out of attempting to run for office several times during municipal, provincial and even federal elections. This is his most recent withdrawal.
Of course, there's still time for Boyd to change his mind and file paperwork before the municipality's September 13 deadline for candidates, but for now it appears the race for mayor will be between business owner and environmental advocate Lil MacPherson and incumbent Savage.
Boyd will presumably go back to driving his cab and advocating for HRM's taxi industry, and perhaps making more satirical videos.
Though we suppose it's possible he really is being held hostage by city council, in which case we'll all feel really awful about this post. Best of luck, Paul!