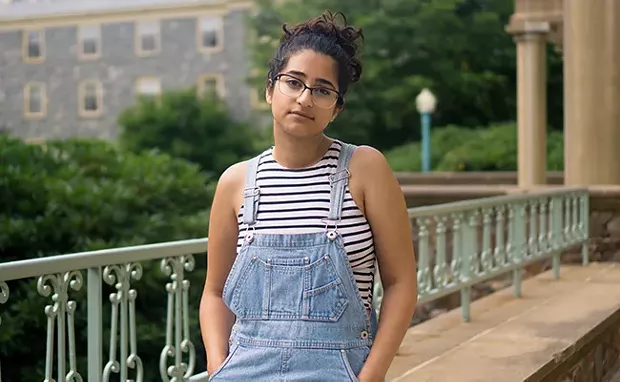 When Dorsa Eslami first walked onto the University of King's College campus with her mother three years ago, she immediately recognized the lack of diversity.

"I haven't had very many professors of colour. We don't have that many professors of colour, I don't think," Eslami says.

The only non-white professor she's encountered at King's in her two years of study was a guest lecture by documentarian Sylvia Hamilton, who's also a part-time instructor at the college.

"I went from going to an international school, where there were 64 nationalities from all over the world, to somewhere where I stick out like a sore thumb," says Eslami.
A native Iranian who attended the British School of Kuwait, Eslami grew up immersed in her peers' culture and understood their individual customs. Surrounded by contrasting and differing perspectives that a variety of people brought to the table was the norm.
"I guess I was used to that as a baseline," says Eslami.
While 18 percent of those registered at Dalhousie are international students, the school—as one example—is far from diverse. A 2015 report on from Dalhousie's Committee on Aboriginal and Black/African Canadian Student Access and Retention found that only two percent of the school's 18,000 graduate and undergraduate students self-identified as Indigenous or Black—far below population numbers across Canada.
Rebecca Thomas is student services advisor and Indigenous support person at the Nova Scotia Community College's waterfront campus, where she helps Indigenous students and provides connection to a sense of community on campus.
There are five African-Canadian advisors and six Indigenous advisors across NSCC's several campuses. Thomas, who's also the city's poet laureate, says she recognizes how the lack of diversity on the waterfront campus can impact students.
Individuals are often put in the spot of being the "expert" on a very large community, or even a token representative of their entire ethnicity.
"It's isolating for the students," says Thomas. "If the topic of your specific ethnicity comes up, everyone turns around and looks at you."
When Thomas attended Dalhousie University in 2004, the Indigenous Student Centre had already been established. It offered her a sense of belonging beyond the isolation elsewhere on campus.
"It was a space to go to," she says, "that provided a community."
Since moving to Canada and attending King's with a more homogenous student population, Eslami says she's witnessed the drawbacks of a less diverse community—such as complacent ignorance or being tokenized.
"I was one of three people in their matriculation video," she says. "I do love my school and I just want them to be better. I think that everyone improves when there is a diverse atmosphere because you just find out more of the world that you had no idea about. You have more viewpoints to consider."
Eslami says she often finds herself explaining why something is not OK to say, or why she thinks a certain way. "Other people don't have to justify their ideas as much."
A lack of diversity takes away from students' overall academic experience, says Eslami. Without a diverse demographic, points-of-view that don't directly impact you or your life can be overlooked.
"You don't come into contact with people from different walks of life or different parts of the world," she says. "I think it kind of cheats the school a little bit, from things that are actually happening."
Editor's note: A previous version of this article incorrectly stated Rebecca Thomas began university in 2003.