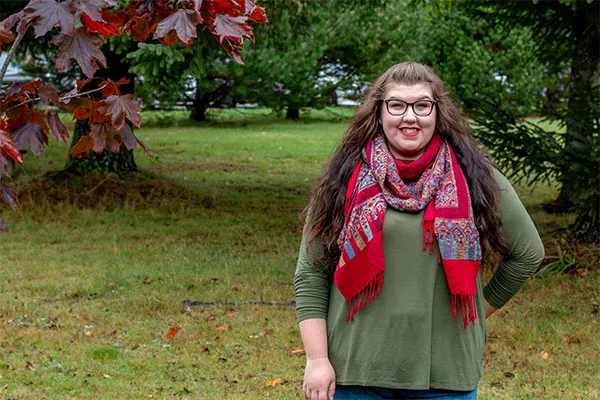 When Université Sainte-Anne's recruiter visited Allison Dykeman's high school, Dykeman clearly remembers leaning over to her friend and whispering "Hey, let's all go here!" What started out as a joke became something Dykeman thought about through the rest of Grade 11, and for the majority of Grade 12. The more she thought about it, the more she realized that Sainte-Anne had so much to offer
"I found myself flipping through their Info Guide, looking up pictures and videos of the campus, and calculating my potential tuition. Once I finally made my decision, I felt really good and couldn't wait to start my studies," Dykeman says.
Sainte-Anne has small classes, which allows the students and professors to create a stronger professional bond, as well as develop bonds with students from around the world. Sainte-Anne also offers an employment guarantee for certain programs, which became a factor into Dykeman's decision. Almost 100 percent of Sainte-Anne students find employment in their field within months after graduation.
Dykeman wanted to be a teacher and was willing to do anything to make it happen. This included studying in French, her second language.
"My career prospects are fantastic. I'm currently trying to decide where in Canada I want to work because I have that kind of freedom with my French education," Dykeman says as she nears the end of her Bachelor of Arts and Bachelor of Education program.
It has been five years of learning how to balance part-time work along with school, where she has been majoring in French as a second language in the elementary teaching stream. Though Dykeman put too much on her plate at times, she found the balance she needed and has developed a deeper understanding of her personal values and goals, and has learned what kind of a teacher she is.
"As teachers, we meet kids that have different abilities, backgrounds, beliefs and personal experiences. So understanding who you are as a person helps develop your teaching strategies and your values and beliefs as an educator," she says.
Dykeman's French has improved immensely during her time at Sainte-Anne, and after spending five years immersed in a French learning environment located in a beautiful Acadian community, she is confident that she can communicate with Francophones all over the world.
"Studying at Sainte-Anne means studying in French, in small classes where you can truly interact and get help from professors who know you personally. I think these aspects contributed to my great career prospects," says Dykeman about the reputation the Sainte-Anne holds. Even some of her favourite middle and high school teachers had graduated from Sainte-Anne.
Speaking from experience, Dykeman says that even though the French seems intimidating, all levels, accents and backgrounds are welcome at Université Sainte-Anne.