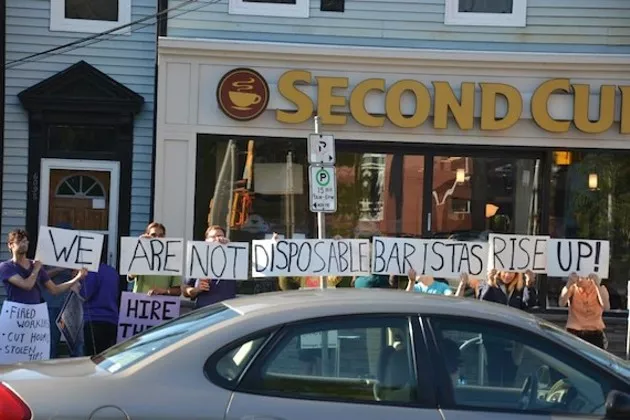 T
he exploitation of service industry workers isn't an abnormality. As recent coverage demonstrates, it's depressingly common, even expected, of young women needing employment. So what's to be done about it?
Restaurant and cafe employees looking for protection from sexual harassment currently only have three options available to them: Rely on company-created HR policies, file a complaint with the Human Rights Commission or take matters into their own hands.
"It's absolutely an issue that getting organized with your coworkers can help prevent," says Darius Mirshahi,
organizer
with the Service Employees International Union Local 2.
"When workers come together and form unions, they're able to negotiate collective agreements that have clear policies around sexual harassment in the workplace, and then if their employer is violating those policies, they're violating a legal contract."
Local 2 represents some 2,000 janitors, cafeteria, cafe, casino, hotel and nursing home workers across Nova Scotia. Included in its members are the Halifax Just Us! employees who became the first unionized baristas in Canada back in 2013.
But it's a small percentage of the 33,500 employees in Nova Scotia who are working in the food and accommodation industries alone. Almost half of those are in Halifax. Almost all of them are vulnerable.
Small business owners, says Mirshahi, can flout labour laws and try to break up union drives as well—if not better—than big corporations. Organizing allows workers to take back some of that power for themselves.
It can also help address the power imbalance employees often feel in confronting supervisors over inappropriate behaviour. Having a union creates an official grievance process and offers a lawyer who advocates for the worker after any incidents of sexual harassment. Which is useful, because the number of those reported incidents is on the rise.
Christine Hanson, director of the Nova Scotia Human Rights Commission, says there's been a "pretty significant increase" in sexual harassment reports since December.
"It's steady," she says. "This isn't something that spiked for a few days. This is something that's been consistently much higher over the past few months, where people had had enough of it and aren't putting up with it."
Hanson says roughly 17 percent of the complaints the HRC receives relate to gender and sexual harassment. Those numbers aren't broken down by industry, but based on anecdotal evidence, Hanson says it's a bigger issue in the local service industry.
It's concerning, she says, but not unexpected given the prominence of the #MeToo movement. "I think people are becoming more aware of their rights, and so that's good they know to contact us."
In response, the HRC has been devoting more resources to the increased calls—many of which aren't solely coming from victims. Employers are also calling, asking for assistance in developing new HR policies, says Hanson.
The "unprecedented demand" from business owners is what inspired HRC's Safe Spaces campaign. The 20-minute training course includes a template where employers can "punch in their company name and they have a nice, solid sexual harassment policy that they can use in their workplace."
But internal HR policies are only as compassionate as the bosses who write them, says Mirshahi.
"A company can create their own policy because they want to, but they can also take that away if they don't want it anymore," he says. "They're setting the terms. They're the ones controlling every aspect of it."
There's greater strength in numbers, basically. And it's a lot easier to get started than many people think.
"All a union is, is you and your
coworkers
coming together and solidifying your power," says Mirshahi. "If you wanted to form a union, look around. Who's there? What are the issues?...Reach out to see who out there can help you formalize it."