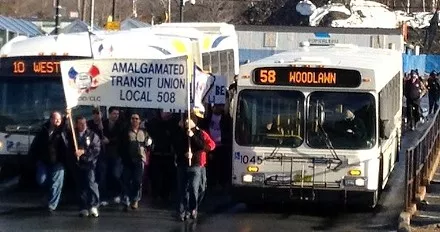 The municipality will be negotiating four of its collective employment agreements during budget season, all while trying to anticipate compensation costs for the next two fiscal years.
Since compensation makes up most of HRM's expenses, that's going to add "significant" pressure to this year's budget according to Bedford-Wentworth councillor Tim Outhit.
"Any business plan requires a fair number of assumptions," says Outhit. "Until a deal is signed, you're never sure what the conversation is going to look like."
Halifax Transit management, whose collective agreement with employees expired back in August, presented its budget plan to Committee of the Whole this week, proposing an increase of $1.8 million next year, with a total operating budget of $115.6 million and a further $28.7 million in capital projects. Half a million from next year's increase is tied to rising compensation, with a total increase in salaries of $3.2 million expected over the next two years before any additional adjustments from a new contract.
Members of the Amalgamated Transit Union, the International Association of Firefighters and the Halifax Regional Police Association are all working off expired collective agreements. Combined with municipal crossing guards (CUPE Local 4814), whose contract expires at the end of March, that makes over 2,000 municipal employees at the bargaining table (though the police contract has already gone to arbitration).
But it's the negotiations with the transit union and its 755 members that Outhit thinks will be the biggest challenge this year.
"There's still a lot of bad feelings and sensitivity from the strike that was really only four years ago," says Outhit about the 43-day Halifax Transit strike in the winter of 2012. "Though, I think most people have a lot of sympathy for the people driving the buses and want them to have good wages and good conditions and good benefits."
Aside from increased compensation costs, the transit authority has a busy year ahead of it. Budget projects detailed to council on Wednesday include a long-overdue review of the Access-a-Bus system, expanding the low-income bus pass program, implementing more of the Moving Forward Together redesign, renovations to the Halifax 
Ferry Terminal, an electric bus pilot program, accessibility upgrades to several bus shelters, a heated shelter pilot project and finally implementing electronic fare-boxes and other technology upgrades.
Meanwhile, financial staff are trying to close a projected $12 million deficit shortfall ($63 million over the next four years) by—amongst other strategies—reducing municipal costs wherever possible without impacting HRM's services. Compensation has been a source of pressure in the proposed police, planning and transit department budgets presented to city hall, even before factoring in new contracts.
Any extra costs as a result of new collective agreements will have to come out of a fiscal services account set aside by HRM as contingency, and kept confidential to not impact negotiations.
Municipal employees represented by the Nova Scotia Union of Public and Private Employees and those with the Canadian Union of Public Employees Local 108 signed new two-year agreements with HRM last October.
———
A version of this article appeared in the January 26 print edition of The Coast