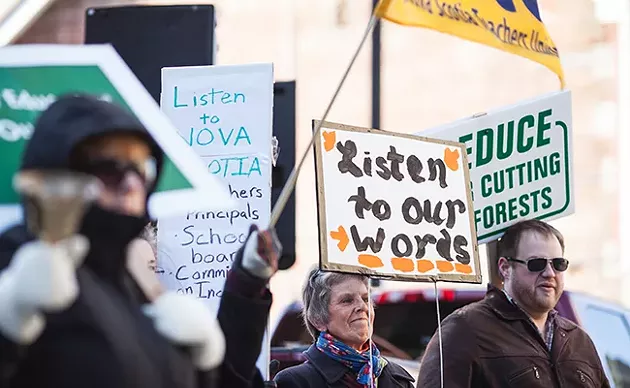 The Cumberland-South seat where PC party leader Jamie Baillie once sat is now vacant. But as MLAs prepare to return to Province House, in the wake of the #MeToo movement, what else—if anything—has changed?
The Coast reached out to every MLA in the province directly, asking them to share their views on sexual harassment and impropriety in order to assess the current mood in this climate.We encouraged the political leaders to speak openly, in the hopes of having a more nuanced conversation about a subject that's had lots of coverage, but rarely manages to scratch the surface of the issue.
Not many wanted to talk about it.
Minister for the Status of Women Kelly Regan was the lone Liberal MLA to respond. Though she declined an interview, Regan provided a written statement saying party members had recently been given sensitivity training and a "refresher" on workplace harassment in advance of the legislature resuming.
"A stronger Nova Scotia needs diversity at all levels, and in all areas," writes Regan. "Creating spaces where inclusion is supported, where women can feel safe to speak up and be heard, is the cornerstone to achieving this. We need to make sure women see themselves reflected in the policies and laws being debated and passed in the legislature."
The Progressive Conservative Party promised four MLAs would share their views on the subject, but never delivered. One, Allan MacMaster of Inverness, responded to our initial request for comment by email expressing an interest in talking. MacMaster did not return follow-up calls or emails.
Lenore Zann, NDP MLA for Truro-Bible Hill-Millbrook-Salmon River, tells The Coast change is in the air.
Speaking from the national NDP convention in Ottawa, where an emergency resolution on a new sexual harassment policy passed unanimously, she says there's a notable difference between attitudes in federal and provincial politics.
"The mood here is all about...people need to change. There can be no tolerance for the old-fashioned, old boys' club way of interacting with women."
She predicts there will be resistance to that shift in thinking among some men back in Nova Scotia politics. She's heard some of those politicians question the women speaking out: Why are they so angry? Why now?
"You have to understand, this is a dam that has been filling with water," explains Zann. "Our great-grandmothers, and grandmothers, our mothers have been abused, discounted and held back...That's where we're coming from."
It seems imprudent to consider the state of sexual harassment in local halls of power without acknowledging one particularly troubling and unresolved case.
Former premier and federal cabinet minister Gerald Regan—Kelly's father-in-law—was accused of rape and sexual misconduct by 30 women in the 1990s. There may well have been more who never reported their experiences. Ultimately a criminal trial was brought against Regan, who secured the most famous and successful defence attorney in the country at the time, Edward Greenspan. Regan was acquitted of eight charges, while nine others were ultimately dropped by the Crown due to the age of the allegations and the defendant.
For Regan, "it was, at best, a Pyrrhic victory," wrote Stephen Kimber for The Coast in 2002. "Gerald Regan was not, as he and Greenspan would claim in separate public victory statements, 'vindicated.'
"Not at all. The charges were not dismissed. He was not found Not Guilty. He simply will no longer have to face them in a court of law."
It's a notorious blot in the province's background, but this history has remained curiously absent in present-day discussions of sexual misconduct. Instead, there's a cycle of allegations and resultant firings that's accumulating speed.
Former PC Leader Jamie Baillie is forced to resign. Former NDP MP and staunch veterans' advocate Peter Stoffer steps back from speaking engagements. Ontario PC leader Patrick Brown resigns, twice. Liberal minister of Sport and Persons with Disabilities Kent Hehr steps down from Trudeau's caucus.
Onto the next case.
"There's all this discussion about, vaguely, the need for policy...but nobody lays out what that means," says Tammy Findlay, associate professor of political science at Mount Saint Vincent University. "People don't want to be calling out their own, and that's an ongoing problem."
Findlay supports suggestions that have already come forward: that complaints procedures be improved. She also endorses the call for training of both new and existing legislators.
But none of these address Findlay's primary concern.
"All of those [measures] are reactive."
Even in this time of change, it's not hard to understand why someone might not want to come forward. As the stories already reported have shown, women coming forward with these allegations were often young staffers at the time of the incidents. A common theme among those brave enough to tell their stories in public is that they no longer work in politics.
Findlay points out the legislature in itself is seen as a kind of anomaly as far as workplaces go.
There is no maternity leave. Technically, elected representatives aren't even considered employees. As such, while they may be in elite roles, they are not afforded the same benefits as other workers, such as union membership or job security.
"The idea that parliaments and legislatures are even workplaces is a kind of new thinking," Findlay says.
Therein lies an opportunity, for not only the elected women who will be improving their own workplace through policy, but also for less-privileged women.
Pamela Lovelace, the outgoing chair for the Nova Scotia chapter of Equal Voices—a group aiming to bring more women into politics—credits the PC Party for acting decisively in the face of reports against Baillie, but stops short of congratulating them.
"Obviously they [have work to] do because it happened in the first place," she says, "Therefore they don't have the mechanisms to stop it."
Lovelace, who worked on policy for the Liberals in 2011, says a lot of the power for change is actually in the hands of the card-carrying party members.
"When you see policy development, it takes place from the membership—the majority of whom are white males."
Neither the Tories, New Democrats or Liberals, it's worth pointing out, keep figures on the gender breakdown of their membership.
"It's a cycle," Lovelace says. "If you don't have women in that cycle—making laws, developing policy—then those issues aren't addressed."
Zann, as one of 17 women returning to the legislature this week, says there's a palpable change in the air as she heads back to Province House.
"I feel different," she says. "Not even just about the sitting. Just in terms of...relationships with people and the way people should behave."
Fair warning to those men in power who've yet to face a reckoning for their past misdeeds.
"Here's what I do know," says Zann. "There will be more to come."