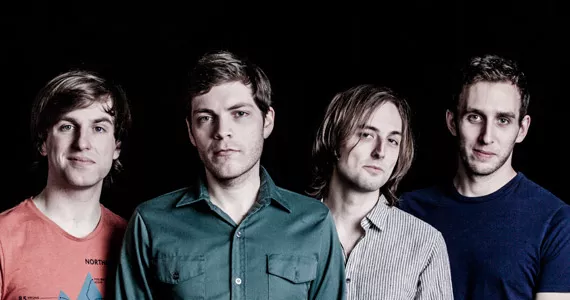 "When we started out, we didn't have any big goals," says Liam Corcoran, vocalists and guitarist for Two Hours Traffic. "We were at UPEI and just wanted to write some songs and play our own music in Charlottetown." He had no idea what the next decade would bring: "It all came as a surprise to us."
With the release of The April Storm EP in 2003, Two Hours Traffic began to venture off the Island, catching ears with rich rock melodies and gentle lyricism that would make them one of eastern Canada's most successful bands. But on Friday, Two Hours Traffic says farewell at The Marquee.
The band announced an amicable end to Two Hours Traffic in October, making sure to state that it's not interpersonal drama or creative differences but simply the right time to wrap it up, says Corcoran.
"Derek Ellis, our drummer, has decided to go back to school, and that forced Andy [MacDonald] and I to really look at the situation," says Corcoran. "We felt we'd lose the original members one by one and we didn't want to continue on that way and call it the same band. We had trouble making a living out of this, we knew these decisions were coming and we wanted to be able to take control of the ending."
It's full circle, since Two Hours Traffic took control of its beginning, making sure its first EP got in the sacred hands of Joel Plaskett, who ended up producing three of the band's four LPs and an EP. "Liam's voice really spoke to me. Alec's guitar playing was really inventive, and I could hear something really unique and direct in their sound," says Plaskett, who Two Hours Traffic considers a mentor and leader. "I'm super proud of the work we did, especially Little Jabs, where I think the band's sound really crystallized. I'm gonna miss 'em but I know individually they'll make more cool music."
"That's one thing we tried to do over the years," says Corcoran. "A less-is-more attitude, to put on only as many layers as we needed, not be scared of empty space in our sound."
Little Jabs was a 2008 Polaris Prize shortlist nominee. By Territory in 2009, Two Hours Traffic had definitely hit its stride.
In 2010, THT played the Vancouver Winter Olympics, one of Corcoran's career highlights. He also says a tour in India was one of the band's coolest golden moments. But really, every single show of the hundreds they've played in every city across Canada has been a meaningful one. The band's final tour is a gesture of gratitude for the fans and friends they've made over the years with their energetic aura.
"There are a lot of people across Canada who understand how hard it is for a band at our level and they supported us as much as they could," says Corcoran. This final tour, he says, will be bittersweet.
The Marquee show will be the second-last before their final night in Charlottetown, so they've asked buds Mardeen and Dave Marsh and the True Love Rules to help do the Halifax honours.
"We want to say thank you to everyone who has supported us, whether it was buying an album or coming to our shows. We wanted a chance to see everyone one last time. All I can say is thank you."
---
Two Hours Traffic w/Mardeen, Dave Marsh & The True Love Rules
Friday, December 20 at 9pm, $17/$20
Marquee Ballroom, 2037 Gottingen Street