Celebrate Earth Day with up-cycled art, see springy styles at the NSCAD Fashion Gala, catch a flick at the Emerging Lens film fest—and while The Raptors keep wowing the NBA, see how the Halifax Hurricanes dunk in round two of the NBL Atlantic Division playoffs.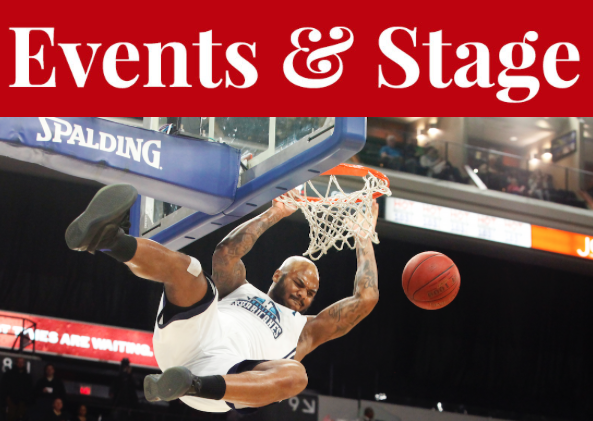 Unarmed Verses screening
Saturday
The Emerging Lens Film Festival caps things off with a screening of Charles Officer's documentary about a community facing imposed relocation, framed by the astute observations of a 12-year-old Black girl. A handful of short documentaries and a performance by Mahlia Smith at the Black Cultural Centre rounds out the experience. more deets
Halifax Hurricanes playoffs round two
Thursday, Saturday
The Hurricanes dribble into round two of the playoffs at the Scotiabank Centre, facing off against the Moncton Magic with two home games in defence of the team's crown as the NBL Canada Atlantic Division Champions. more deets
Earth Day marine garbage talk and workshop
Sunday
Artist Jane Whitten—whose current Mary E. Black gallery show discusses the coastal effects of climate change with pieces crocheted out of plastic bags—talks with marine trash experts Kristal Ambrose and Jennifer MacLatchy at this free lecture. Following the conversation, crochet lovers can learn how to reclaim potentially polluting plastic bags by turning them into crocheted sea stars with Whitten's expertise. Held at the Centre for Craft Nova Scotia. more deets
NSCAD Fashion Gala: Fête à la Main
Saturday
NSCAD's latest crop of designers send their creations down the runway at this conceptual show celebrating the handmade and haute couture at Casino Nova Scotia. more deets
The Light Fantastic
Thursday, Friday, Saturday, Sunday
Questioning identity, sexuality and the seeming futility of existence, this Art Gallery of Nova Scotia group show of works in neon, video, print and paint recalls John Milton's 1645 poem about the nature of existence. more deets
homesick
Thursday, Friday, Saturday, Sunday
Meditating on Beau Taplin's quote "and then she knew that you could become homesick for people too," ceramicist Shauna MacLeod explores themes of home, connectedness and permanence in a series of jars glazed in bits of dirt, soil and rock at The Craig Gallery. more deets
Work
Thursday, Friday, Saturday, Sunday
Eyelevel Gallery settles into its new digs with this member show, a collection of paintings and sculpture by Danika Vandersteen that explores the motivations of the artist's aesthetic leanings while also celebrating beauty in a winking, self-depricating presentation. more deets
Ephemerals
Thursday, Friday, Saturday, Sunday

Susan Tooke's Woodlands-style pieces focus on environmental issues throughout Nova Scotia, and sport titles like "Chaos Theory" and "Origins." See them at the Secord Gallery.
more deets
B.A. Johnston w/Outtacontroller, Beach Bait
Thursday
Hamilton's king of weird returns to his favourite town to talk chicken nuggets and deep-fried shrimp from the stage of Gus' Pub. more deets
The Olympic Symphonium
Friday
Fredericton's lush, soft and sweet The Olympic Symphonium (which is probs the town's coolest band, tbh) comes to Halifax to share snippets from its latest, Beauty In The Tension, at The Bus Stop Theatre. more deets
Together Our Voices Are Powerful feat. Emily Stuart, T Thomason, Neon Dreams and more
Saturday
Nashville-trained Makayla Lynn, EDM phenom Neon Dreams and T. Thomason's indie-rock gold dust combine with a stack of other talent at St. Matthew's United Church to raise funds for the Avalon Sexual Assault Centre. more deets
Pallice w/Nomadic Homes, Moonwake, mal/aimé
Thursday

Multi-instrumentalist Morgan O'Leary's project Pallice sees jittery guitars and driving synth-lines meld in American minimalism. It's mellow R&B meets dance pop with a heavy slug of bass on top, so bring your dancing shoes to The Seahorse Tavern for this one.
more deets