Just in time for our annual celebration of the city's new art, peep these creative ways to fill the best days of the week.
Righteously Political Poetry: Canticles vs. Slavery and Imperialism with George Elliot Clarke
Saturday
Celebrated poet George Elliott Clarke tackles five centuries of slavery and imperialism with recent poetry, including his ongoing epic Canticles, at this unapologetically visceral verse session at the Central Library. more deets
Salt Water Moon
Thursday, Friday, Saturday, Sunday
When Jacob Mercer returns to his tiny hometown in Newfoundland after abruptly leaving for Toronto only a year before, he finds the love of his life is engaged to another man. Will this Neptune Theatre tale see him win her back before it's too late? more deets
Deep Stories Halifax: Live storytelling presented by The Deep magazine
Thursday
The Deep, Atlantic Canada's magazine for longform journalism, offers the perfect cure-what-ails-you to beat the mid-winter blahs: A night of true, live storytelling by Haligonians like Adam Fine, Stephanie MacDonald, Hana Nelson, Nasha Nijwana, Martha Paynter, Quentrel Provo and more at The Bus Stop Theatre. more deets
V-Day Halifax: The Vagina Monologues
Friday, Saturday
The award-winning play that the New York Times has called "probably the most important piece of political theater of the '90s" is turning 20—and to celebrate, The Bella Rose Arts Centre is doing a special three-show run benefiting the Avalon Sexual Assault Centre. more deets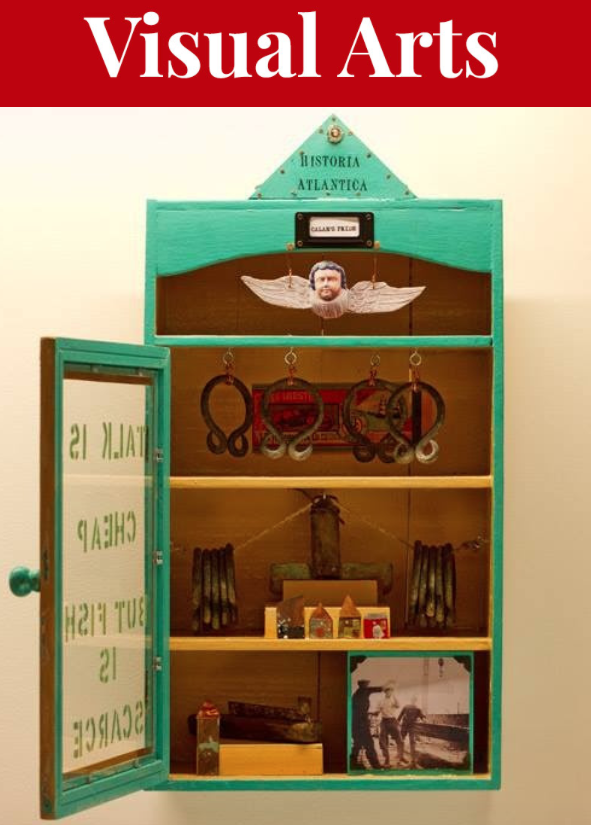 LOVE and LOVERS
Thursday, Friday, Saturday
A group exhibit at Studio 21 exploring one of life's biggest gifts, this show is bound to remind you that love (and art) is all you need. more deets
Historia Atlantica
Thursday, Friday, Saturday, Sunday
Su Rogers' collection of medicine cabinets turned mini museums shows even the smallest collection of artifacts can communicate time and place when perfectly layered and tightly edited. See them at the Craig Gallery. more deets
Selected Works: Paintings and Drawings
Saturday, Sunday
Brent Garbett's pieces are unplanned, based in memory and intuitive response. Here, his mentor Dan O'Neill gathers a compilation of Garbett's work for an Hermes Gallery show that's as much about the duo as it is about the art. more deets
Living Furniture
Thursday, Friday, Saturday, Sunday
Billed as "tenacious Nova Scotian designers offering us a new perspective on the furniture we live with," this Mary E. Black Gallery exhibit features work by Jeff Amos, Carole Burnett, Shelly and Keith Haill, Alexa Jaffurs, Christopher Joyce, Lloyd Klassen, Peter MacLean, Randy Mugford, Veronica Post and Gary Staple.
more deets
No Sleep
Saturday
Host DJ Okay TK describes this dance party best: "Saturday in the Rainbow Room at Menz Bar is the best '90s warehouse rave that you've never been to because you aren't 50 years old and this isn't the UK. New house, old house, vocal house, acid house—we will house you. Come and be the Cuddy to our House (MD). " more deets
Lea Bertucci w/Taral Naik, Daniel MacNeil
Friday
Composer, sound designer and multi-instrumentalist Lea Bertucci brings her latest, Metal Aether, to the Khyber for an off-season OBEY show the festival describes as "balancing brilliantly the rigour of minimalism with the intensity of conceptual sound fields" as Bertucci uses her breath, her alto sax and a series of tape machines to build a sonic universe you'll get lost in. more deets
Vera's Lament
Friday, Saturday, Sunday
Jazz legend Jeri Brown delivers this sweeping drama following the demise of Vera and Joe's relationship and their thoughts of the woman who came between them at the Canadian Museum of Immigration at Pier 21. more deets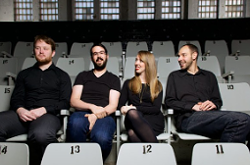 Quiet Parade album release show
Friday

The sonic equivalent of Nova Scotian costal fog settles down over The Carleton's newly-renovated stage for a mesmerizing show.
more deets