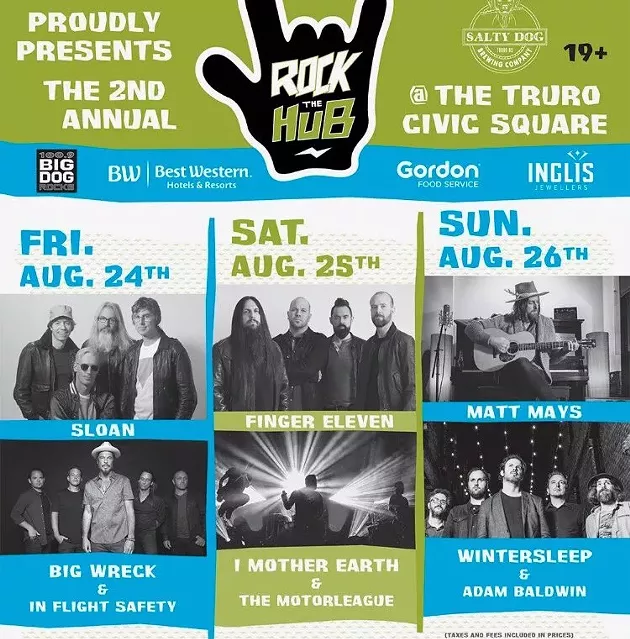 The Truro festival
Rock the Hub
, which debuted last September, has announced its 2018 lineup, and it's a lead ballon. August 24 sees Sloan, Big Wreck and In-Flight Safety; August 25 finds MuchMusic '00s mainstays Finger Eleven, I Mother Earth and the Motorleague; and August 25 offers a Sonic Records roster current and past with Matt Mays, Wintersleep and Adam Baldwin. Man oh man, what a great long weekend of rock and roll, man!
In February, 45 music festivals around the world—including Toronto's
North By Northeas
t and
Canadian Music Week
, but not, notably, major American ones like Coachella and Bonnaroo—
pledged gender parity by 2022
, which is still way too late, but at least the problem is being addressed.
As in all things, this region is behind. Last month,
New Brunswick fests
were called out by
Canadian Women Working in Music
for having a particularly terrible track record—none of the seven festivals hit gender parity, with four of them falling under 25 percent—and Newfoundland's
Iceberg Alley
festival, which across nine nights has one female act,
Ria Mae
—billed under Shawn Hook, who only pulled out of the Hedley tour after everyone else did—decided to take on no less than
Amelia Curran
after she expressed her anger:
.@icebergalleyNL That's pretty embarrassing for you. Two years in a row. NINE nights of concerts. One female act. @riaisawake

— Amelia Curran (@Amelia_Curran) March 21, 2018
Why? We don't have a male/female artist quota mandate? If there were 10 female artists that made sense we would have booked 10 female artists

— Iceberg Alley Tent (@icebergalleyNL) March 22, 2018
Both the
Halifax Jazz Festival
and
In the Dead of Winter
have always been mindful of lineup balance. Jazz Fest's 2018 slate, not even fully announced yet, is not just killer but also diverse:
Rock the Hub follows in the tradition of the rural rock festival—see also
Jubilee, New Glasgow Riverfront
—that insists women don't play rock music, which is patently untrue. Or that there aren't enough women at the headlining level, also patently untrue. I am a woman who plays rock music and is of rural provenance, and to continue to suggest that women "won't sell" in certain towns is to underestimate the targeted audience, especially considering that the internet is available everywhere and the old stereotype of people just "not knowing better" is dead. (And even if it weren't, how do you expect attitudes and tastes to change if you continue to put the same male bands in front of them?)
In this particular case, Truro is also where
Nova Scotia Music Week
has parked itself for years, so that audience is getting at least an annual taste of what the province has to offer musically—even if the event does fall into the Truro Trap of making white males the marquee shows—which means that audience, even presupposing it's a bunch of Bud-swilling hicks who only want guitar solos (it's not), should be open or at least getting used to seeing a more diverse lineup.
These things do not fall at the feet of the bands, they fall to the people in charge: The bookers, the boards and the sponsors who don't ask for more, demand for better. It's tired, it's out of touch and it's embarrassing. There's no defense, there's no excuse and there's no reason to support events like these.