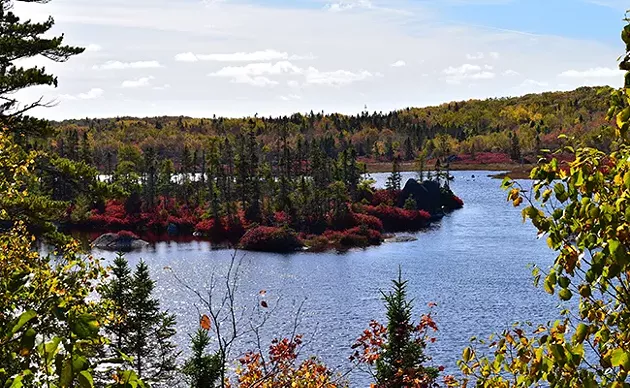 As Meredith Baldwin and Cameron Edwards sit at a cafe's corner table, the sunlight streaming in on them almost seems to echo their optimism.
"We think transit is very important. We'd like to change the perception around transit," Edwards says, hands resting on the table. "People don't like taking the bus for the most part. They find it's an inconvenience...but it has an element of uncertainty and adventure in it."
While shaking some people's perception of the city bus being synonymous with dirt and sweat (and let's be real, lateness) is no easy task, the duo is giving it a solid go. Together with a board and group of dedicated volunteers, they run the Dalhousie-based Trips by Transit, an organization offering pay-what-you can adventures by bus and ferry to the farthest-flung corners of HRM's transit map.
"When we first started planning trips we were literally just looking at Google Maps and seeing where it was green, and then seeing what bus routes connected to it," Baldwin says.
What began as three friends from Ontario trying to familiarize themselves with their new city—and feed their appetite for the outdoors—quickly blossomed into open events like hiking Duncan's Cove or trekking from the last stop on route 402 (defunct as of August 21) to Crystal Crescent Beach.
"Students tend to lock into the #1, because it takes them everywhere they need to go," says Edwards. "We want to show them they can get on all these other buses and go wherever they want really easily. So they don't just feel that they're living on campus but that they're living in Halifax."
Trips with varying lengths and levels of difficulty, all posted on the group's Facebook page (and a number of bus tickets so no wannabe-wanderers are left behind), underscore this point.
Just as it began with three friends, the pair notes that a sense of community has become as much a part of their excursions as getting a dose of nature.
"We see a lot of friendships get made, people are excited to get outside with people," Edwards adds.
Trips like this summer's weekly sunset hikes—30-minute jaunts around parks like Hemlock Ravine—frequently feature the same faces. "We want people to leave feeling closer to their community, closer to nature," Baldwin says.
"I've never had a sense of wanting to protect a place as I've had with Halifax. The more times I'm out in natural spaces, the more I get why people are trying to protect this—it feels like home," Baldwin says, shifting in her seat. "I was camping in Purcell's Backlands recently: It's just nature all around you and it's really hard to see anything that's
not
nature there. I woke up in the morning and I was hearing drills from the nearby development and I'm like, 'I get it now.'"
Trips by Transit's transit trip picks
Organizers Meredith Baldwin and Cameron Edwards couldn't pick just one of their favourite bus routes, so we're listing their picks along with a couple of our choice transit treks, too.

Route 20: Purcell's Cove Backlands
Baldwin says the Purcell's Backlands are probably her favourite spot in all of HRM: "I've seen deer and beavers there."

Alderney Ferry: Downtown Dartmouth
"Every time of year it's very pretty, and it's just nice to get over to Dartmouth," says Edwards. "There's some really nice cafes, shops and local community stuff going on."

Route 80/81: Hemlock Ravine
This compact slice of wilderness features enough winding trails to pleasantly fill an afternoon, with stunning vistas of Bedford Basin and several strands of old-growth trees (like, 1780s old).

Route 60: Fisherman's Cove
Route 60 unspools along Eastern Passage, taking you to MacCormacks Beach Provincial Park and the nearby Fisherman's Cove—a restored fishing community filled with quaint, colourful shops.