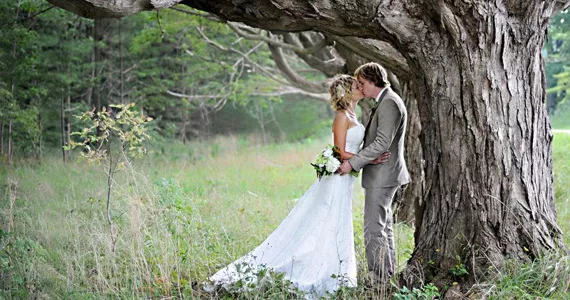 In terms of overarching themes or the general look of a wedding where do you find inspiration?
My source of inspiration is my clients! It's in what they wear, how they decorate their home and what they are most attracted to on Pinterest! It is so much fun when my clients' taste is similar to my own personal taste while it pushes me to be a better designer when working with clients with alternative or different style!
What are some details commonly overlooked by the average bride?
The fine details! Items like family photos, personal decor elements, small touches such as candles, flowers and amenity baskets in the washrooms. Overall the little details are what will set your wedding apart and stand out in your guests memories.
What are overdone themes or traditions that you'd like to see end?
I would love to see more couples steering away from is simply trying to please everyone. When inviting 30, 150 or 400 guests, you are never going to cater to and please everyone on your guest list, it is simply impossible. This is your day, make it exactly what you want it to be. Keep your guests, their comfort and their experience in mind during the planning, but at the end of the day stay true to yourself and trust your feelings.
For a couple just starting the planning process what's your advice on where to begin, or what to tackle first?
When starting the planning process, I cannot stress enough to establish a wedding budget! Setting your overall wedding budget, will lead you towards the most appropriate venue, time of year, vendors and over all wedding style. Going into the wedding planning process without a clear idea of what you can afford almost always creates more stress then positive outcomes. There are great guides and tutorials on how to develop a wedding budget and average wedding costs to be found online.
What are the benefits of hiring a wedding planner or stylist?
Enjoyment and peace of mind! One of our biggest and most common complement from clients is that they were able to fully enjoy their wedding planning in the months leading up to the wedding, and on the day had peace of mind knowing their vision for the entire day would come to life with little-to-no involvement on their part. Hiring a wedding planner allows you and your family to behave as host on your wedding day without all the work that goes into it!
If you were to put together your dream wedding on-trend for this season, what would it look like?
My dream wedding on-trend for 2014 includes timeless details with pops of colour. As is most of the world at the moment, I am completely obsessed with the 1920s era and Great Gatsby decor inspiration. Rose gold, pops of colour such as coral, neutral blush tones and navy are a few of my current go-tos. Cascading, natural and romantic details in the floral design and one of my all-time faves is transforming any reception space with decorative lighting.
---
Katelyn Hipson is co-owner and lead planner of Elegant Productions Planning & Design based in Halifax Nova Scotia, servicing both local and international clientele.
elegantproductions.ca