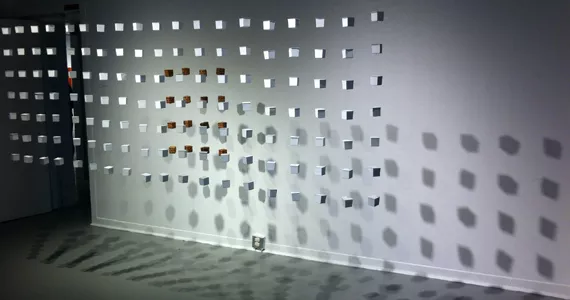 It was Thomas Wolfe who said you can't go home again---as if the desire to recapture something of a lost past is impossible or unadvisable. But what happens when your past is torn from you, as so many residential school survivors' pasts were? NSCAD student Carrie Allison Goodfellow wrestles with these themes and more in in her exhibit Transition that's on display now until Saturday, October 12, at the Anna Leonowens Gallery.
Goodfellow's grandmother was from Sturgeon Lake Cree Nation in Alberta and went through the residential school system. Two generations later, Goodfellow is only now finding her way home.
"She was the only one that really went to residential school," says Goodfellow, and afterward "she didn't recognize herself as being Aboriginal at all." That negativity was transferred on to her daughter where it took root---exactly the sort of thing Richard Henry Pratt hoped would happen when he developed the first off-reserve boarding school back in 1879 whose mandate was to "kill the Indian, save the man" through genocidal cultural assimilation.
After exploring her family history during an independent study with NSCAD professor Carla Tauton, Goodfellow is finally in the process of reclaiming her native identity. "It's hard when you didn't grow up in that community," says Goodfellow, "because there is such a sense of community that you just don't have, and it's difficult to get back involved with something you weren't actually involved in."
This summer Goodfellow went home to Vancouver to spend time with Aboriginal artists on the Tsawwassen Indian Reserve, where she worked with both a weaver and a carver to learn a little bit about the traditional arts that were never passed down to her and incorporate them into her work.
"What I wanted to make was really modern and kind of abnormal," she says. "They weave baskets---I wanted to weave a cube."
Cubes and grids recur in Goodfellow's work, and here, they symbolize the struggle of tradition versus modernity---"it's completely man-made, nothing like it exists in nature. I kind of work in a binary way, duality sort of, being aboriginal but growing up completely white or European."
In one part of the exhibit, the installation "The Scarcity of Craft" will display those 16 cubes as a kind of curtain, partially obscured by other plastic cubes which is meant to call to mind "sort of how plastic is pretty much taking over our entire world and it's so hard to come by a good piece of...material, or something that will last. It's so rare now."
The furthest wall, meanwhile, will be covered in 30 to 40 of the watercolour drawings that Goodfellow did while on an Art in Schools Initiative scholarship in South Africa.
"That's kind of why it's called Transition too," she says, "because I've been moving around a lot this year, not just physically but mentally---you start to really evolve by learning so much of your family's history, or going to another country and experiencing their culture but also bringing it back to yours."
Each watercolour features an invading plant in South Africa introduced through the colonial project with a white, at times almost invisible, lino print overlay on top of it of an indigenous plant that's endangered or in some cases, already extinct---all of which is sandwiched between glass like a lab slide---"a bigger metaphor for colonization and how things are lost in the process of it," she says.
True, colonization would imply you can't go home again, but as Goodfellow proves, there's no silencing the pull. "It's a really nice feeling," she says about returning home last winter to spend time with her great- aunts on reserve, it's "a nice family feeling that we didn't really grow up with."
---
Carrie Allison Goodfellow, Transition
To October 12
Anna Leonowens Gallery, 1891 Granville Street