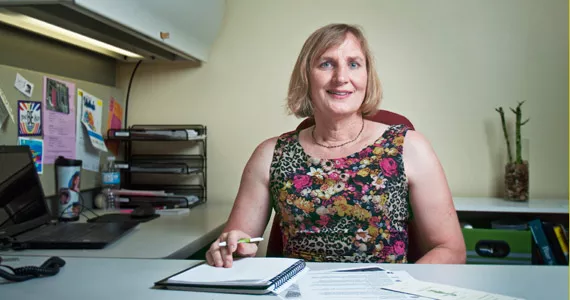 Trans individuals have a hard enough time outside of LGBTQIA spaces, so it's another blow when you don't see yourself reflected in events at a festival that's meant to celebrate trans identities among others.
Last year Halifax Pride hosted only one event specifically reaching out to transgender individuals. This year that's expanded, with events aimed at reaching out to organizers from more marginalized communities; a Gender Fuck Show (July 24, 8pm at Menz Bar) which "laughs in the face of gender binary," as well as the All-Bodies Swim (July 18, 6:45pm at Centennial Pool), organized by local group Trans Connect, that has been ongoing for several years.
Willem Blois, chair of Halifax Pride, says that the festival adds a few more events reaching out to underrepresented groups each year. Talking to community groups for feedback this year, "we realized that we didn't have any events that focused on the political side of Pride, and we didn't have events focused on the struggles that still need to be pursued in the community." The corporate sponsor-free Heritage Gathering (July 19, 3pm, Gottingen Street) aims to assist with this, where community organizations have a chance to share some of the work they're doing.
Blois wants people to realize Halifax Pride doesn't organize all the events in their calendar, though, and it includes events organized during Pride Week by many people in the city. "We want to empower [community] organizations to come out and plan events," he adds. The committee is also working with Rad Pride, which has had greater success in reaching out to trans people in the past few years.
"We're not looking to copy those events," says Blois, "they have events that are targeted just at the trans community, so that's fantastic, can we lend them our support?"
Kate Shewan is the director of the Youth Project, a trans woman and grand marshall of this year's Pride parade. The Youth Project hosts events for those under 25 each day of Pride, which Shewan says are all trans-friendly and a "very safe space" that many trans youth participate in—a feeling that isn't always duplicated in Pride's events for adults.
"The LGBT community isn't necessarily well-informed on trans issues," she says. For starters, many activities occur in bars, where issues with ID, bathrooms, alcohol and harassment can cause issues for many people. "It's the same kind of danger of harassment and stigma trans people face in everyday life, it doesn't go away just because it's Pride," she says.
Shewan also points out that many transgender women are uncomfortable with the preeminence of drag in Pride events and parades. Laura Shepherd, a trans woman who is documenting her transition in the series "Becoming Laura" for the Halifax Media Co-op, seconds those feelings.
"We have a come a long way. But it is still easy to write over trans identities," Shepherd says. "While I respect the role drag has played in the history of our community, the public at large may not be able to distinguish between the performance that is drag and the identity that is trans. Drag queens make a great visual statement but without a more explicit statement of their role, the potential for a larger misunderstanding exists."