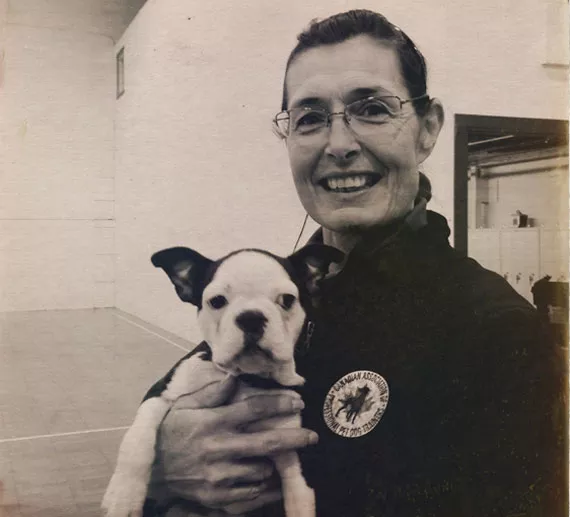 If you're a dog owner, chances are you've spent some devoted time training your pup. Susan Jordan, a professional dog trainer of 14 years, says she's trained over 100 dogs of all different breeds and ages. Jordan dedicates hours a day to helping owners not only educate their dogs, but understand what it means to maintain responsible dog ownership.
"If you're happy with a dog who jumps all over somebody, eats everything and poops anywhere, then I'd say don't train your dog," she says, laughing. "But I wouldn't advise it."
Jordan says training your dog creates a strong human-animal bond and should be a fun and rewarding experience. She specializes in working and training "both ends of the leash," by using a personal in-home approach, where the owner and dog can become comfortable in their own environment.
"We're not naturally versed in the language of dog," she says. "When you're dealing with a sensitive and intelligent species, it's so important to understand where they're coming from."
Jordan has a bachelor degree in physical education, and says not only does that eduction benefit her when training the "human side of the leash," but it also enables her to be hyper-aware when watching the behaviours of the dog.
She prides herself on always using ethical and respectful methods when approaching her training sessions: "We're all beings who flourish, blossom and enjoy learning in a positive, fun setting and not in a punitive setting." Jordan says the same should always be applied to your four-legged companion.
Jordan says the most important tip she gives to her clients is to recognize the stages of growth your dog is going through. She encourages people to not expect "adult behaviours" from a puppy. Just like we had to mature, so do our pups. After that awareness, here are some of the top things Jordan trains for:
Impulse control. "Teaching the dog not to chase after the cat, or bolt down the stairs." She says this important tip is achieved by teaching the pup "a nice neutral sit."
Reliable recall. "Not the dog usually comes when I call, it has to be reliable." And "walking nicely on a leash." Jordan says these two go together because these behaviours are unnatural to the dog. These are the two hardest things to teach, she says.
Down. "Using the high-hand, so the dog can see the gesture from across the street and know what the gesture means."
Restraint. "Very important in our society, we have to teach our dogs to have restraint, so they don't have a damn panic attack if they need to be held at the vet."
Stay. "I like to teach a dog to sit and stay on a mat," she says. "So if you're running to the door to meet a friend, the dog isn't going cuckoo all over them."