A "community road train" could be jauntily
chugga
-chugging through downtown traffic come this summer.
On Tuesday HRM council
asked for a staff report
on funding
Ambassatours
' answer to the city's Queen's Marque construction woes.
The three-carriage road "train" will shuttle folks along
Lower Water Street—
from the Discovery Centre to Historic Properties—and then back on
Hollis Street
. Each carriage will hold 20 people, with the caboose being wheelchair-accessible.
It's one way the waterfront businesses who depend on tourist dollars are hoping to
mitigate the construction
of the Armour Group's massive
$200-million
development.
The
Waterfront Development Corporation
is also installing a "
floating bridge
" between the Maritime Museum of the Atlantic's docks and Cable Wharf to help pedestrians safely avoid Queen's Marque's footprint of destruction.
The road train, which was pitched to Halifax and West Community Council last week, will be a sort of spiritual successor to the "Free Rides Everywhere Downtown" (or FRED) bus that
ran for several years
along
a similar route.


"I think that this, actually, is frankly even better than the FRED trolley on a lot of levels," said councillor
Waye Mason
at Tuesday's meeting. "It's being run by a private operator, it's primarily connected to the tourist sites and it's really focused on that kind of downtown corridor."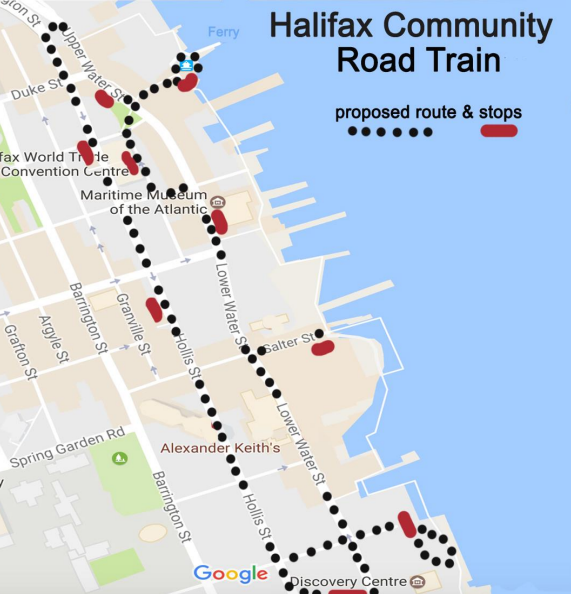 The idea
spins-off
of a tiny train service in
Tatamagouche
, which proved successful enough in ferrying passengers around that town's shops that
Murphy's Cable Wharf
and
NovaScotian Crystal
borrowed the vehicle
for a two-week pilot project last fall along Halifax's waterfront.
While
Ambassatours
' CEO
Dennis Campbell
says advertising and business donations will cover
most of the costs
for the pay-what-you-can train rides, the company is also asking HRM for
$120,000
in funding over the next three years.
But spending money on a private corporation's tourism booster set off alarms bells for some councillors.

"I want to be supportive, but I also want to make sure we're within our legal rights according to the Charter," said
Bill Karsten
.

Council ultimately approved the request for a staff report by 17-0.