Three years after HRM By Design was adopted to standardize development in the downtown, the war over building height rages on. Fronts are forming around the Roy and Discovery Centre buildings on Barrington, and CBC and YMCA buildings at Sackville and South Park. Proposals for the Roy and Discovery Centre will undergo public hearings May 10.
Both buildings are in what By Design calls Barrington Heritage District, which is designed to keep the look, feel and height of traditional old buildings. But because the applications were filed before the district was approved, the old rules will apply.
Starfish Properties, owned by Louis Reznick, applied to replace the Roy Building with a 16-storey office and residential building. "We bought it with the full intention to renovate and restore it," Reznick says. "We consulted six architects on schemes and dreams and ways to work with building facades. There's no saving it."
He adds that his company has a good environmental track record---having implemented a recycling program for Roy tenants, installed new boilers, recycled wood from the Roy and recycled steel and crushed concrete at previous demo sites---and will consider sustainable features like a green roof, greywater system and insulation. "We all know nothing would be greener than to save an old building, but there's no insulation. It's leaking everywhere."
Reznick promises a high-quality building and says green features attract tenants in today's market. "We need density in the downtown," he adds. "We need a tax base. Economic benefits translate into environmental benefits." He is driven not just by profit but also a desire to grow and beautify Halifax, architecturally. He promises a beautiful building.
But the body of evidence suggests that high-rise buildings don't build community; they kill it, while hurting the environment. Edmund P. Fowler, author of Building Cities That Work, writes that multi-family houses (such as duplexes and three-storey flats) can hold the same number of people per hectare as do high-rises. But the latter are built of steel and concrete, two of the planet's most energy-intensive materials.
Their construction also uses more materials per square metre of usable space, and they go on using more energy per square metre to maintain complex systems and features. They are the biggest energy user and producer of greenhouse gas emissions of any building type. Luckily, they don't last more than a few decades.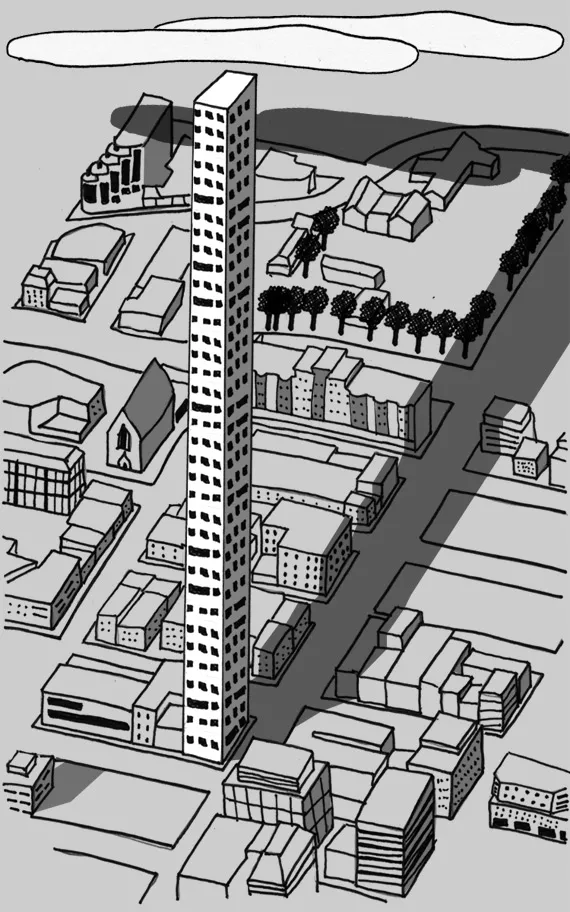 High-rises are just as disastrous socially. Despite often being located downtown, their residents drive more. They talk to their neighbours less. That may be because they fear them---crime rates are greater in high- rises, regardless of income.
Phil Pacey, president of Heritage Trust, doesn't disagree with the need for density. But he says there are ample opportunities for development without demolition or high-rise construction.
According to Pacey's written assessment, "The proposed [Roy] tower would be four-and-a-half times as high as the average height of the adjacent heritage properties, and five-and-a-half times as high as the white Colwell Brothers Building, three doors to the north." He also writes that the Discovery Centre proposal would be four times the average height of surrounding buildings.
While adamant that new heritage rules don't apply to this case, Reznick has made heritage concessions, most notably reducing the base of the new building and copying the present facade. Pacey says that regardless of facade, the size is way out of proportion with the rest of the streetscape.
It's the eternal density verses heritage debate, but the heritage advocates rightly point out that with 500,000 square feet of vacant downtown office space, and another million square feet of vacant lots, densification doesn't require demolition---the two really aren't related.
"The real estate firm Turner Drake identified 40 to 50 downtown sites that are appropriate for development," Pacey says, "providing 10 to 13 million square feet of additional floorspace, double what we have. It would take 50 to 70 years to fill that and HRM By Design only lasts 23 more years."
Save the View's Peggy Cameron adds that, despite the abundance of vacant downtown land, the city continues approving projects "somewhere beyond belief of size beyond comprehension," effectively encouraging sprawl over density. "Paris is one of the most densely populated cities in the world---there, the urban centre has buildings of four to six storeys."