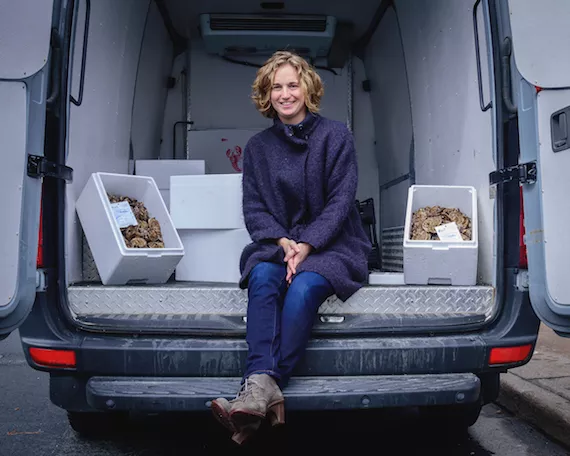 Afishionado Halifax Fishmongers has a new approach this year. Gone is the brick and mortar location at Local Source on Agricola Street, and in its place is a Catch of the Week seafood subscription.
"Last week was our first delivery," says Hana Nelson, owner of Afishionado. "We're so excited with the reception that it's had."
The subscriptions are sold on a month-to-month basis ranging in price from $20-$55 per week, in portions ranging from one to three pounds, which should serve two to eight people for around two meals per person. You can also choose between focusing solely on fish, or, if you want to have things like mussels, oyster and shrimp as much as you want harpoon-caught swordfish, hook-and-line pollock and haddock, you can switch between fish and shellfish each week.
The subscriptions started with deliveries of land-based, antibiotic-free Cap D'Or Salmon from a sustainable farm in Advocate Harbour, and Nelson is hoping for a big enough haul of hook-and-line caught halibut for this week. Each week will be something new, something freshly caught, and something sustainable. This new system means she can tell her customers more about each week's catch; an educational component is something Nelson thinks is as important as the food itself.
"Every week we're going to tell you where it comes from, how it was caught, what it is, what you can do with it, the nutritional facts behind It," Nelson says. "One thing that I've found is that I can bring in a lot of really cool stuff, but people don't really know what to do with it. So a lot of the rare things would be really fun to bring in, but people wouldn't necessarily want to try it. So it gives people more tools and information to learn more about seafood in the region."
The subscription has pick-up locations in Halifax, Dartmouth, Cole Harbour, Bedford and Musquodoboit Harbour. You'll also still find Afishionado at the Seaport Farmers' Market on the weekends, shucking fresh oysters and selling an assortment of fresh fish.