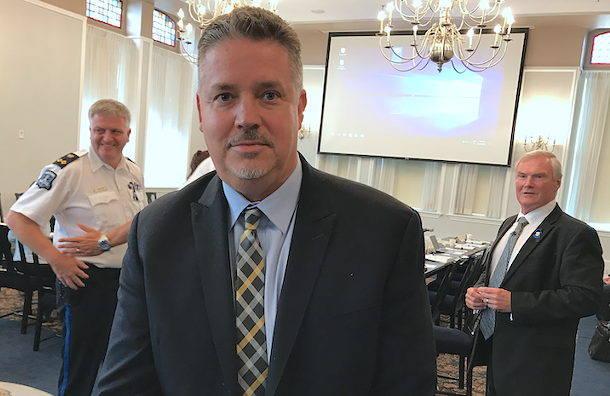 The Nova Scotia Human Rights Commission has hired one of the country's leading experts on racial bias in policing for an independent review of police street checks.
University of Toronto criminology professor Scot Wortley appeared before Halifax Regional Police brass and the city's Board of Police Commissioners on Monday to answer questions about his upcoming analysis of the controversial practice.
"It's not an easy topic to research or to discuss," he said.
As first reported by
CBC back in January
, a decade of data from Halifax Regional Police showed Black residents are three times more likely to be street checked—recorded or stopped by police—than white individuals in HRM.
Wortley told commissioners on Monday that the numbers confirmed "to many" the racial bias
already felt by local Black residents
. The figures are also consistent with other emerging data from
police departments in Toronto
and jurisdictions across North America.
"This is by no means a problem that is isolated to Halifax," he said. "The issue of policing and how different minority communities are policed is probably one of the most contentious and controversial issues in law enforcement."
But it's familiar territory for the professor, whose previous research in Ontario includes a study on the disproportionate rate of
Black individuals denied bail
in Toronto and an analysis in Kingston that found Black residents were 3.7 times
more likely to be stopped by police
than white residents.
Wortley's job now will be to determine what portion of the overrepresentation of Black individuals in the Halifax street check numbers is due to police bias. To that end, he'll be conducting an analysis of the data, as well as meeting with Black communities across HRM and speaking with police officers about the controversial practice.
The result could be a "double-edged sword," he warned commissioners. The detrimental impact of street checks on public trust will have to be weighed against the practice's positive effect on public safety.
"There might not be a perfect way of measuring that," Wortley told reporters. "What's most important, from my perspective, is communicating to both sides what the costs and benefits are."
It will take another two months for Wortley to conduct his research. That puts the delivery date for his final recommendations close to the one-year anniversary of HRP releasing its street check data, and the department's subsequent promise to get to the bottom of the apparent racial bias.
Despite the delay, Wortley commended Halifax police and the board of commissioners for what he called a "groundbreaking endeavour" to analyze its operations. In years past, he said, police departments across the country were much more reluctant to acknowledge there could be a problem with racism, let alone release internal data to the public or independent researchers.
"We've come a long way to be sitting in this room."
The final report will include recommendations on improving data collection and addressing any racial bias Wortley finds in police practices. The board of commissioners were in agreement that getting that analysis out to the public as soon as possible will be vital to rebuilding community trust.
"Perception is
reality
," chair Steve Craig told his colleagues. "We need to ensure that that trust is there—that it's not all lost. We need to build that trust."
In a separate motion, councillor Waye Mason
asked for a staff report
reviewing best practices across Canada in order to establish a new policy from the board of commissioners on the use of street checks.
"We can't just cut and paste the rules from Ontario because the legislation between the two provinces is quite different," Mason said, referring to that province's reforms on how police can stop and interact with residents. "So I think this is separate work, and it needs to start now."
According to Wortley, he'll be paid $30,000 for his services over the next year.