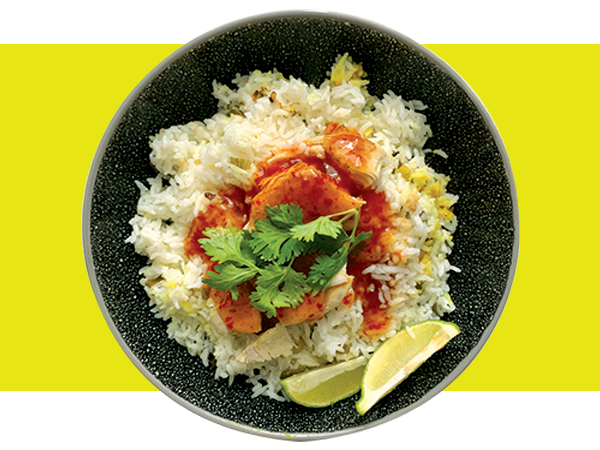 I vividly remember purchasing my first rice cooker. I refused to use the kitchen at my off-campus student residence (if you saw it you would too) and quickly tired of buying a slice for lunch and dinner. Once autumn rolled around, I began to pine for the meals I had back home in Jamaica; not so much the flavours, but rather having three hot meals every day. I began losing weight (yes, folks, while eating pizza) and with winter fast approaching, I had to take matters into my own hands.
The next day I bought a rice cooker. It was nothing fancy. It didn't play music to signal being done In fact, it only had two modes—on and off. However, I made this rice cooker work for me and hacked some of my favourite recipes to work in it. Here's how you too can have three square meals a day with a simple rice cooker.
BREAKFAST: Whatever you have frittata
Kick-start your morning with this filling and easy-to-make frittata that can be made with almost anything that you have in your fridge.
You'll need: two eggs, two slices of bacon, 1/4 cup of canned potatoes (you can substitute with leftover french fries, but who saves fries?), a thick slice of tomato, an eighth of a medium-sized bell pepper, 1/2 sprig of green onion, 1/4 cup of grated cheese, a handful of washed baby spinach, salt and pepper to taste. Note: you can use any quick-cooking veggies that you have lying around including mushrooms, broccoli and asparagus.
Chop the bacon, tomato, bell pepper, potatoes and green onion and place in the rice cooker. Cover and turn it on. Once it begins to sizzle stir and leave uncovered until the bacon starts to brown. Add spinach and wilt. In a separate bowl, whisk eggs with cheese, salt and pepper until fluffy. Add eggs and cover until frittata puffs up or edges start to brown. Eat half for breakfast and take the other half with you for lunch.
---
DESSERT/SNACK: Lemon pound cake
You'll need: One box of yellow cake mix, one box of lemon pudding mix, three eggs, one cup water, 1/3 cup oil.
Mix all the ingredients together and place in a greased rice cooker. Cover and turn on. Within 30-45 minutes you'll have a deliciously moist lemon pound cake that will be the request of every bake sale this semester.
---
DINNER: Hainan chicken
Ok, so it's far from authentic, but you're in uni and supposed to interpret things in your own way, right? Here's an easy take on the popular and complex Asian dish that you'll want to cut out of class early to head home to eat.
Ingredients
1/4 of a chicken (leg and thigh makes for a more delicious dish)
1 clove garlic, smashed
1 piece ginger, to taste (but a one-inch piece should suffice)
1 sprig of green onion
1 chicken bouillon cube
1 1/4 cups rice
1 1/2 cups water
1 Thai chilli (only if you can handle the heat!)
3 sprigs chopped cilantro
Juice of half a lime
Sweet chilli sauce from the bottle (we aren't making that from scratch!)
If you're fancy feel free to add:
2 Thai basil leaves
1 teaspoon of rice wine
Method
Rinse rice until water runs clear.
Squeeze lime juice over chicken, toss (or give it a massage) and rinse.
Chuck everything into your rice cooker. Better results come from putting the chicken in first.
Press the on button and head to class.
Come home and eat a delicious meal slathered with sweet chilli sauce.