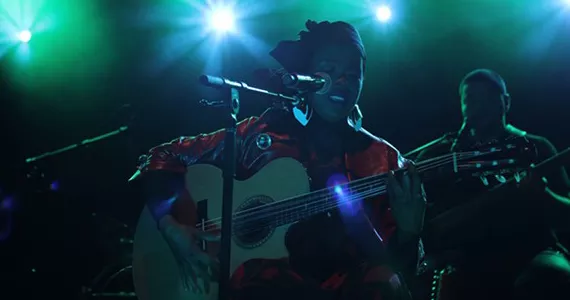 PUP at Halifax Pop Explosion
If the amount of feet in the air and fists in the air are a way to measure crowd excitement, the PUP performance at HPX gets full marks. The crowd indulged in the music and sang along with every word and fuelled the dream that is far from over for PUP.
Ms. Lauryn Hill at Halifax Jazz Festival
It didn't take long for Ms. Lauryn Hill's Jazz Fest show to sell out and the crowd was ecstatic when Hill took the stage in July. The excitement had temporarily taken a backseat when a spectacular electrical storm rolled through and pressed pause on the show. Those who waited were rewarded as she played late into the night, educating the city on why she's a legend.
David Bowie Tribute at The Marquee Club
When David Bowie passed away on January 10, the local scene quickly mobilized a couple weeks later. There were tears, hugs and ear-to-ear smiles, communal celebrating and mourning all in one. Some of Halifax's finest artists, including Mo Kenney donning the iconic Aladdin Sane lightning bolt, paid their respects with incredible covers.
The Weather Station at In the Dead of Winter
In the middle of January, it was cold outside and Tamara Lindeman had a cold, but the Weather Station's performance was like a comforting cup of tea. One of Canada's best singer-songwriters calmly serenaded the crowd with deeply personal tales.
Gridlock
Gridlock was the new kid in town, full of promise. Highlights included American Football playing Canada for the first time, a reunited Wolf Parade and an intimate Waxahatchee show. Who knew a tent in a high school parking lot could be so much fun. Bring on Gridlock 2017.
Jonathan Briggins is a Halifax journalist who ate a lot of hot dogs at music festivals in 2016. Find him on twitter @briggins.