Apple made a welcome change to the iTunes Store earlier this year when it allowed iPhone and iPad apps to be paid for and sent as gifts the way music long has. This opens up a world of giving opportunities---there are over 300,000 apps---but also creates some dillemas since 300,000 is a lot of choices. The money you spend on gifting an app isn't transferrable, so you don't want to give something they might already have, like the hit Angry Birds. Making a present of productivity apps, even the excellent and pricey OmniFocus, risks the same buzzkill as giving underwear in the offline world. The Canadian video editing app 1stVideo - Consumer Edition is the best video editing app on the market, but it's a professional-grade tool, not something to liven up a holiday dinner party. Games? Not as simple a win as you'd hope, since the highly touted Madden NFL 11 will fall flat with the person who really wants Beauty Lawyer Victoria, and vice versa.
What you're looking for in a gift app is the same thing you seek in any toy. Think fun to play with, easy to share, no instruction manual necessary. And if there's learning involved, it shouldn't be obvious. Here are five apps that fit the bill perfectly for any iPhone user on your shopping list, even yourself.
Savage Love $1.99
Who hasn't wanted a little bit of Dan Savage in their pocket? The syndicated columnist beloved by Coast readers comes daily in this app with the "Questions of the Day" feature, plus it's easy to browse Dan's audio Lovecasts and the indexed history of his sex advice. There are 31 entries for "Best Advice Ever" and only 13 for "Worst" and if you like those odds you can also write or phone in your own question from the app.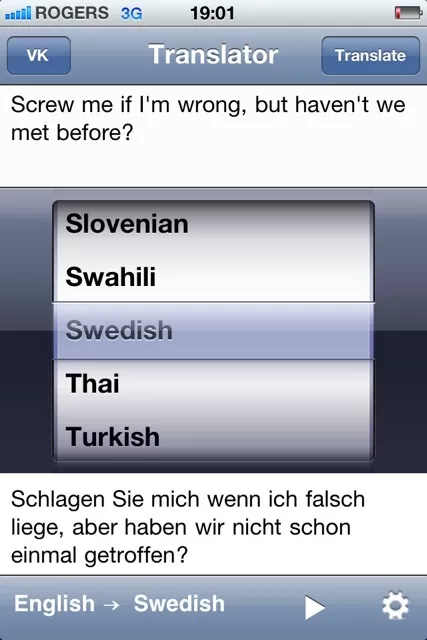 Translator with Voice $2.99
This one's been out for a while, although I'm not seeing it very often on phones I come across, so file this recommendation under "An oldie but a goodie." Type a word or sentences, pick from among dozens of languages, hit the Translate button and get your text converted. Hit the "play" icon and it speaks the translation, which is great for making the locals think you're from the future when you travel. English to Filipino, Croatian to Swahili, Japanese to Dutch and more, translating pick-up lines is a great party trick no matter what country you're in. Or as they say in Italy, "I vostri vestiti apparirebbe grande in un mucchio sgualcito accanto al mio letto."
Swankolab $1.99
From the people who brought us the Hipstamatic, the wonderfully addictive camera app that is too widely owned to be safely gifted. Where the Hipsta takes photos that look like they're shot with classic mechanical cameras, Swankolab lets the user choose any digital photo—from the iPhone camera's roll, imported from their computer, emailed or clipped from the web—and treat it with a variety of chemicals in a virtual darkroom to create new images with compelling retro effects.
CinemaFX for Video $2.99
On the subject of giving digital images an analog patina, think of CinemaFX as the Hipstamatic for video. Shoot in-app camera or import from the camera roll, apply effects such as Dust & Scratch and Surveillance Cam, and adjust photography fundamentals of exposure level and/or contrast. A surprisingly fast rendering later, you start getting confused about whether that device is an iPhone 4 or an 8mm projector.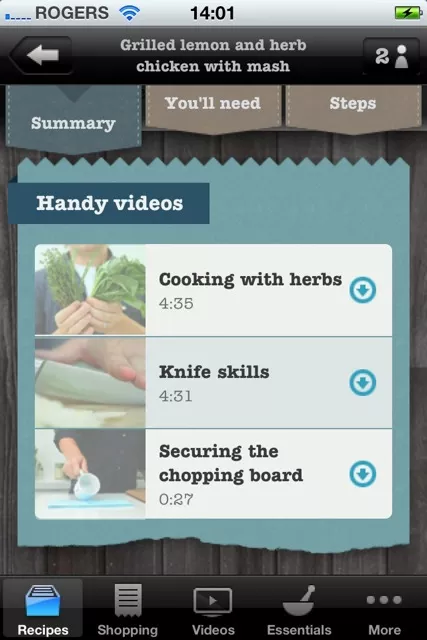 20 Minute Meals - Jamie Oliver $7.99
Jamie Oliver was an early player in the celebrity chef app game, and for me he still beats more recent efforts like Mario Batali Cooks! and Rachel Ray's Tasty Bytes. Beyond a recipe book, the app is jammed with how-to videos, illustrated step-by-step instructions and nice design touches, all in service of helping people make super meals fast. But at heart it's food porn, enjoyable even for those of us who'd never try cooking lamb rogan josh with lemon rice or the vegetarian cheesy zucchini and mint risotto.