My favourite part of AFF is always the Frame x Frame program, you just never get this kind of access to animation anywhere else here. Tonight's programs are divided into two themes. Frame x Frame 1 (7pm, Park Lane 8) is called Let's Get Weird, and features 10 short animated films, including Runaway, the latest by Cordell Barker (The Cat Came Back), with a soundtrack by Benoit Charest (The Triplets of Belleville). If you love classic animation styles, like I do, you'll get a kick out this sweet little film, and it's simple tale of a train that needs a little help. What I enjoy about Barker's work is that you can see an artist: the texture and the grain of the paper, and the ink that he uses becomes part of the film. FYI: Barker is coming to Halifax for World Animation Day celebrations, November 1 at the Company House.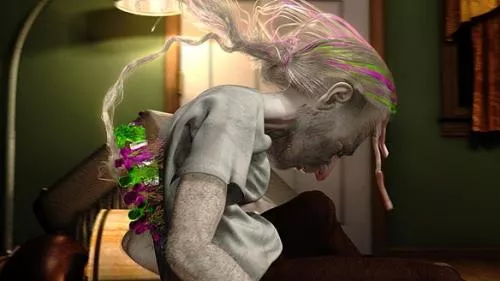 The Spine, from Oscar-winner Chris Landreth (Ryan), whom I spotted recently in Toronto having drinks in Kensington Market—physically, he's probably the most recognizable Canadian animator—doesn't have the warmth of Barker. His work is worth marveling at because he find ways to physically manifest his characters' emotional conditions. Skin peels away in strips, magenta lights sparkle from spines, bodies shrink and bodies grow. He refers to his meticulously engineered style as a psychorealism, which is perfect. Like Ryan, this film is also about broken-down people; this time an unhappy couple. The therapy session is incredible.
See The Spine at Frame x Frame ||: Tainted Love, at 9:20pm, Park Lane 8.