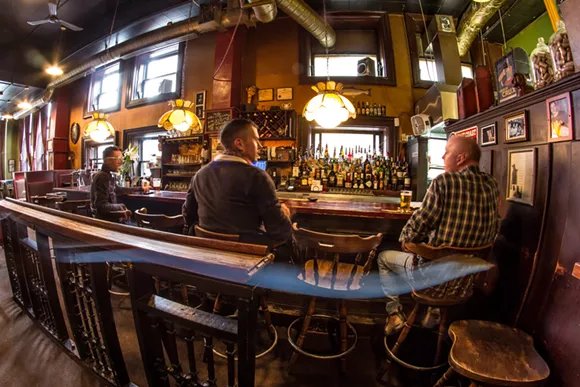 Regulars of both Tom's Little Havana (5428 Doyle Street) and The Fireside (1500 Brunswick Street) have been losing sleep lately knowing that both bars would be uprooted come this fall. After years of rumours, the construction of a new development on the Spring Garden/Queen/Doyle/Brunswick block is finally coming to fruition, meaning all of its businesses will be closing or moving—and the thought of a downtown Halifax without a Tom's or a Fireside was a frightening one for many. After fending off an endless stream of "what's going to happen"s from patrons, today co-owner of both bars Lynne Ferguson was delighted to announce they're moving together, just a block away, to the Birmingham Street entrance of City Centre Atlantic. (That's 1535 Dresden Row, but think Premier Wine and Spirits' former location.)
Ferguson says it won't have that "mall entrance" feeling anymore, though. "When you walk into those doors, it'll be more Tom's," she says. "You'll be walking into Tom's, and The Fireside will be on the right, in the old Premier location." The two bars will share a kitchen and washrooms, but be separate from each other, Tom's will take over the current Top Cuts space and the salon will move to another spot within the mall. "They were terrific about the move because Tom's was going to be there," Ferguson laughs.
In early May, Tom's put out an online survey looking for the public's thoughts on a new location and the Spring Garden area was a winner over both Barrington Street and the north end. "We just have a ton of regulars and they drive us. On snow days and Sundays they just keep coming," says Ferguson of why patrons got a say on the new spot. "It was important for it to be close by. We're creatures of habit. I think it was also important to continue being just a little out of the way, off to the side of the main street."
The next generation of Tom's and The Fireside is scheduled to open for October 1. In response to the major public concern—how the heck will they transport the dark, intimate and nostalgic Tom's vibe elsewhere??—Ferguson says a little wallpaper, wood panelling and tablecloths can go a long way. "I hate to say it but I think it's going to be easy. It's really the people that make the vibe at Tom's," she says. "It's a little bit the look, but mostly the people. It'll be fun to see the new Tom's and cry about the old Tom's together"