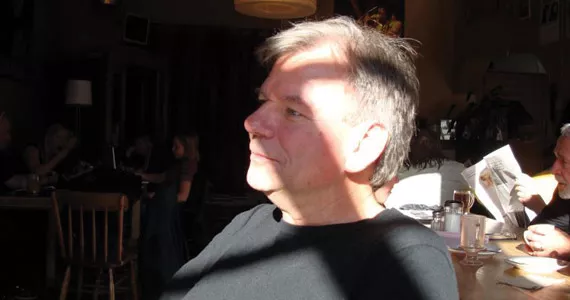 Last night The Coast called Tom Sherman from a computer. We dialed up his New York phone number from Skype on a Haligonian laptop and then a variety of devices facilitated a talk about technology, language and art. It's fitting that this encounter was mitigated through a bizarre combination of communicative technologies, since technology and its effect on humans will be the theme of the work Sherman will be showing as part of the Halifax Independent Filmmakers Festival next week.
The Atlantic Filmmakers' Cooperative, in conjunction with the Centre for Art Tapes, will be hosting the sixth annual festival from April 10 to 14, which soft-launched with a screening of Sergei Eisenstein's classic Battleship Potemkin last Saturday. This five-day celebration of film and video will include 20 events and 75 films and videos. Nine of those videos will be Sherman's.
As a prolific video artist, writer and academic, Sherman has spent a good deal of his life considering the human experience and the ways it can be replicated and effected through media. His list of national and international achievements is extensive and includes forming the Media Arts Section of the Canada Council. He now teaches in the Department Transmedia at Syracuse University in central New York.
Sherman will have two screenings, on April 13 and 14. The title for the first event is "Technology as language: Cultural engineering begets personal humans." "It's a topic that deals with the effects of technology on human nature," he says. "Technology used to be discretely a separate thing but technology is so much a part of our lives now. The projection that the human being would become a cyborg adjusting to the world with these various prosthetic devices, I mean we still don't have the implants in our heads for the most part, but we use our phones and digital video and we use technologies to help our memory and in many aspects of it we're almost incapable of separating ourselves from technology."
Sherman will show three videos exploring these relationships we have with our technology. He will shed some light on the intimacy we share with these objects and how this intimacy might be shifting our sense of self. One video is a semi-prophetic piece he made in 1987 of himself parenting an artificially intelligent robot.
The second screening, entitled "Positioning art in the culture of messaging," will expand on this theme of technological influence. The four videos will be questioning how various technological forms are affecting the content of art and how it is perceived.
"We're really in an era where people aren't looking at fixed works of art, their looking at exchanging messages so what comes with that territory is an instability and a lack of permanence so for an artist to say, 'I am really deep and I have this thing that I've put together for you it's taken me three decades to make and it's going to take three hours for you to understand even 10 percent of what I'm saying,'" he says. "People will start looking at their cell phones and thinking about what they're going to in the next ten minutes."
To try and alleviate this symptom of post-modernity, Sherman aims to be interactive. He will introduce the ideas within his work, show his pieces and then try to spark a dialogue with his audience. Hopefully his Halifax audience will put their phones down long enough to contemplate them.