Update: Around noon at a press conference in Dartmouth, Tom Martin doffed his metaphorical hat and threw it into the ring. His campaign slogan: Ask for more.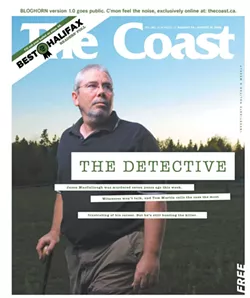 With a bit more than a year to go until next October's city election, today might bring us the first officially declared challenger to current mayor Peter Kelly. The
Herald
is
reporting
that former police detective Tom Martin will announce that he's running. Coast readers will recognize Martin's name from a pair of excellent cover stories, one from 2006, the other from 2009, both written by Stephen Kimber.
"The last best hope"
looks at what drives Martin to work on solving cases that everybody else has given up on, such as the William Shrubsall sexual assaults.
Discovering Shrubsall's identity, however, was only the beginning of what turned into an all-consuming three-year investigation that would take Martin to Niagara Falls twice and also to Philadelphia, where Shrubsall went to university, interviewing and re-interviewing neighbours, ex-girlfriends and even the pawn shop owner to whom Shrubsall had sold his valedictory medal. Along the way, Martin filled 25 banker's boxes worth of notes, statements, videos and other assorted evidence. When it was over, Shrubsall had not only been convicted of assaulting and robbing Donnison and sexually assaulting three other Halifax women, but he'd also—thanks largely to Martin's dogged detective work—been officially labelled a "dangerous offender" and sentenced to prison for an indefinite period. Martin's work on Shrubsall was only one of the reasons he was nominated by his fellow officers as top cop for 2001. That same year, he'd also helped make arrests in two murders, an attempted murder and a kidnapping.