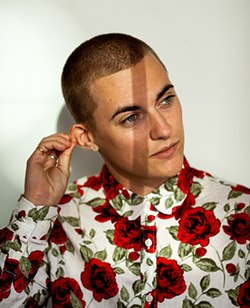 T. Thomason w/Zamani, X
Thu Oct 3, 8pm
The Bus Stop Theatre
2203 Gottingen Street
$12/$15
---
There's a moment on track six of T. Thomason's new, eponymous album that bobs across the listener's consciousness. It is equal parts siren song and buyer beware. "Queen of hearts, I'm the King of Spades, always digging my own grave," Thomason laments, awash in a shade of Frank Ocean blue. "Better know before you jump in with me." Ripples reach the walls of your skull and you know for sure—if there was any doubt left—that you've reached the interior of Thomason's world.
It's a late-summer afternoon when T. Thomason walks into a north end bar, stride barely breaking as he smiles shyly at the waitstaff. He takes a seat and mulls over the menu. The creator of one of the year's best pop records offers to go halvsies on a plate of fries.
Thomason is 25 years old. His last full-length record came out in 2014, when he was 19. (Yes, super fans will note, there was a five-track EP in between, 2016's Sweet Baby.) He is climbing the ladder to adulthood in the same shy stride he enters the bar with. He never claims to have it all figured out—but it's clear, both through conversation and a spin of the new album, that he knows who he is.
Making music on a professional scale since his teens in Antigonish—and snagging semi-finalist status in the John Lennon Songwriting Contest along the way—Thomason forged an image early on of a precocious talent, penning songs about high school's daily struggles on the likes of 2011's Beauty Queen. Critics couldn't get enough.
His latest record is a hard turn away from this old catalogue. Leaving behind the rock 'n' roll doused sound that saw him garner this early success isn't without risk—but the bigger risk is, of course, presenting a work removed from an authentic self.
"I mean, I love rock 'n' roll and I love the energy of rock 'n' roll, but I'm interested in getting that in pop music," he says.
The new record "was made over such a long period of time—it was made over four years—so the influences changed a lot," he continues. "When Dave"—that's producer David Henriques—"and I started working on it, we went on tour opening for Collective Soul. Dave came on tour as my bass player. But on that tour, we listened to a lot of hip hop, a lot of Kendrick Lamar, and we just really bonded over that and we really loved the beats that were being put out at the time. Dave was like, 'We should make something without any real drums. Let's start from that perspective.' so that's where we started with the new record."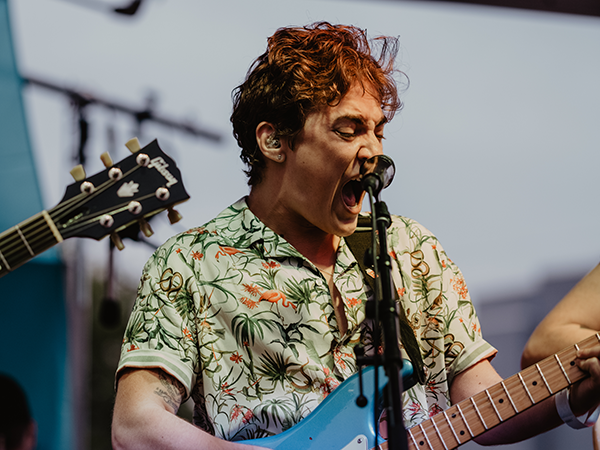 A heavy rotation of Lamar's Good Kid, M.A.A.D. City, Charli XCX's entire catalogue and some retroactively embarrassing Iggy Azalea saw Thomason swap the guitar-driven rock he began his career on for offerings fleshed out over the skeleton of an electronic drum beat.
"To me, it's very much a record documentation of the last four years of my life," he adds.
Simply put, he's growing up. His sound is, too.
The result? Thomason brings not only the party, but a study in pop itself. "I've always loved pop music, but nowadays I think I'm listening to pop music with a different ear. The thing that I always loved about pop music was that it's very formulaic, and I liked the idea of working in a formula and still being able to create depth and authenticity within a formula—I always liked artists who could do that," he says. The record reflects this, with shifts from the Channel Orange-era Frank Ocean croons on "(Bad) Joke" to the Troye Sivan delivery that dots the album's middle tracks.
"Loser"—the album's lead single—might share the same slouchiness of Beck's track of the same name, but it carries a swagger that's completely its own: Thomason's refrain "I'm a loser, when you get to know me" hits its peak with the line "I'm a loser. Can I take you home now?" Back against the wall somewhere between the indie pop of Tegan and Sara's "You Wouldn't Like Me" and the slickest Justin Timberlake-Timbaland co-production, it's equal parts scar tissue and sparkles.
A dramatic flair and swoop-soaring vocals throughout the record makes the influence of Lana Del Rey feel both obvious and ocean floor deep—never more than on the track "Lana's America," where Thomason sings "I used to wish to be an American, Hollywood and The Hamptons, an aged liquor, cocaine fever, new money, young believer." The sweet, sad spot The Weeknd aimed for in his track with Del Rey—2017's "Lust For Life"—is hit with bull's eye precision here.
"All of these songs were written on acoustic guitar. I'm gonna write this on the guitar because that's how I've always written and the lyrics are the most important thing, but then [Henriques] is gonna take them into this whole other world," Thomason adds.
As much as the album stands as an offering to the pop gods (and Thomason is shown to be a scholar of the genre), it's also a class in coming into your own.
Thomason has found new influences since the days of his 2009 breakthrough, Through The Static—when Avril Lavigne was a favourite artist of his ("I still love Avril Lavigne. I'll forever love those early records," he says with a laugh). He's also amassed life experience, splitting his time between Halifax and Toronto and "wherever the gigs are" as he cuts his teeth on the concert and festival circuit. (Earlier this month, Thomason played a set at Pop Montreal as part of the album tour—and his show at The Bus Stop Theatre on Thursday will be a hometown celebration of the new LP).
He also took time away to, as his website's bio phrases it, "begin testosterone hormone therapy and relearn his singing voice, changing his name and pronouns along the way"—a process that is documented in lifted-from-a-diary lyrics like in the song "Birdsong": "Send me away, send me out to the farm, let me change, new body, new name."
"As much as I don't want to focus on my personal history and [solely] stamping myself as a trans artist, you can't deny this is the record I made during that time. A lot of these songs were written while I was figuring stuff out," Thomason says.
Dunking fries in aioli, Thomason continues: "To me the record is about figuring yourself out and then reconciling it with the outside world, and figuring out the outside world."
A loose narrative emerges throughout the record, as lyrics shift from depicting a dystopic city drenched in anonymity ("Nuclear Blue") to a pastoral escape. The sound follows this path, gaining a Sheryl Crow-like pop-country sheen in the album's latter half.
The exit ramp from boulevard to highway is fluid and natural. By "Life on the Farm" (two songs after Thomason dies and is reborn with the King of Spade's crown atop his head), a twangy guitar riff jibes the slippery 808s. Shania Twain's lasting shadow on modern pop falls along Thomason's hay field.
"Life on the farm, I know where I stand, I sleep in the shade, got workin' man's hands. Life on the farm, send me away, new body, new name," he sings.
The LP's closing track, aptly titled "Bliss," sees the mark of a hard-won sense of self rest on Thomason's sleeve: "Hold onto this: Past all your fears, you will find bliss," he sings in a voice about to break.
The electric drum thuds one last time, another heavy stone falling into the pool of your mind. T. Thomason­ the record is a sweet-as-bubblegum map to finding yourself. T. Thomason the man has used this compass, offering it now to whoever else needs it to navigate the waves.
Morgan Mullin is the arts & entertainment editor at The Coast. Prior claims to fame include that time at summer camp when she won an apple pie-eating contest. She still can't touch the stuff to this day.