Berrrrrrrrrrrrrrrrrrrrrrrrrg
Ricky Gervais' co-directorial debut, The Invention of Lying, opens October 2,and is in the same vein as his first American film, Ghost Town, which premiered here last year and tanked at the box office despite being pretty decent. In this story, co-scripted and -directed with Matthew Robinson, Gervais stars as a scriptwriter for an A&E-type production house that makes talking-head recreations of history (his territory is the 1300s) in a world where no one can lie. (Sample: Coke's logo is "It's very famous"; Pepsi's is "When they don't have Coke.") When Gervais' Mark, freshly fired and low on rent money, lies to a bank teller about his account balance, he invents lying and levies it to his own advantage, landing him fame and fortune but not the love of Jennifer Garner, which is what will make him happy.
The whole thing turns into commentary on god and religion—Gervais is an atheist—when Mark's mother dies and hospital staff overhear him inventing heaven to ease her suffering. It's alternately hilarious and sappy, good-hearted and sincere, packed with powerhouse comedy cameos from Tina Fey, Jeffrey Tambor, Jason Bateman, Stephen Merchant and Christopher Guest (not to mention sidekick roles for Louis CK and a wasted Jonah Hill). And Garner gets better every time I see her. The audience ate the movie up—it was today's 9:30am critic bait.
I've done well with wild card picks so far, landing on two documentaries about fascinating people—Ahead of Time, about 97-year-old Ruth Gruber, and Brooklyn native who became the world's youngest PhD, then a war correspondent, then a saviour of refugees and author of multiple books; and Collapse, about former LAPD officer Mike Ruppert, who was forced out of the department when he tried to reveal a CIA cover-up (they smuggled and then dealt drugs in the US) and became a conspiracy theorist of sorts—one who predicted the economic disaster of this year around 2004.
ESPN is debuting a series of 30 films by 30 directors about sports, and the series will kick off with Kings Ransom, the story of Wayne Gretzky's trade from Edmonton to Los Angeles. It's a good TV doc, with tonnes of awesome archival footage and key interviews with former Oilers owner Peter Pocklington and Glen Sather. I went mostly to scream "CLEAR EYES FULL HEARTS CAN'T LOSE" at director Peter Berg, who helmed the film version of Friday Night Lights and created the television series, now filming its fourth season (and is the best thing on TV, if you didn't know). I didn't do it of course, but people cheered when the show was mentioned (Berg's itinerary for the day, btw: fly to Toronto from Austin. Fly to New York for Giants game. Fly from New York to Austin. All in one day.)
Peter Berg (right) discusses the appeal of sports as film subject, shoots down idea of Gretzky biopic.

Down at Yonge and Dundas, aka Hell, they set up a track and held a ladies' roller derby match in honour of Ellen Page's new movie, Whip It.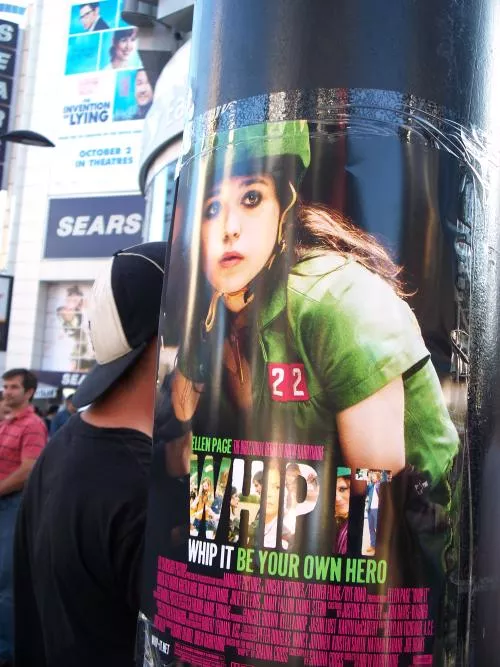 I am short, so I didn't see much. Here's the event from my perspective: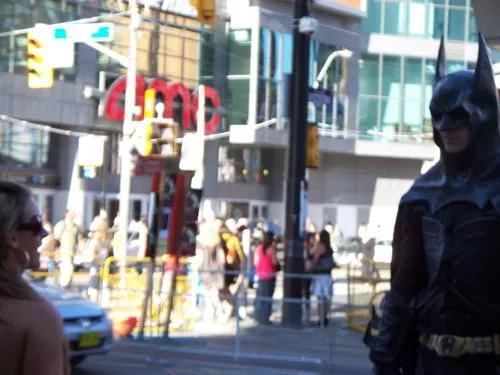 Batman doesn't care about roller derby when there are blondes right in front of him.

For dinner I met up with Rose Cousins and her friend James in the Beach (not The Beaches, I am told), and then we took ice creams to the real beach, and then Rose played us some rough mixes from her brand new record which she is in town recording with Luke Doucet, which was easily the best part of the day.