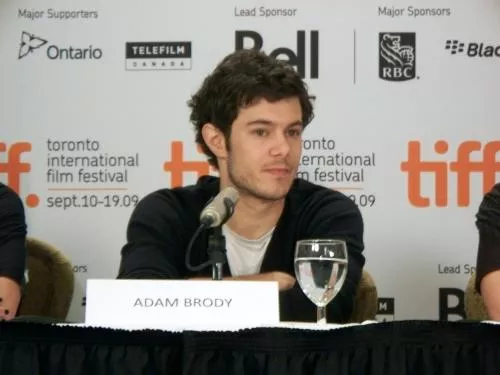 The best way to get critics out to the dreaded 9am screenings is to fill those slots with critic bait—this year finds names like von Trier, Almodovar, Soderbergh, Herzog and Jeunet kicking off the days.
Friday began with a packed house salivating for the new Coen brothers joint, A Serious Man. Considering the shit show of Burn After Reading—not funny enough to be a comedy, not dramatic enough to be a drama, so what's left? Somebody tell me. (That's a rhetorical demand)—I'd been waffling between Serious and The Informant!, Soderbergh's Fat Matt Damon comedy. The Varsity seats way more than the Cumberland, so I went with the Coens.
Set in 1967 and starring a virtual Law & Order casting session (biggest name: Adam Arkin), A Serious Man is a very hysterical account of the worst two weeks in the life of Larry Gopnik (Michael Stuhlbarg), a mild-mannered Jewish physics professor whose life falls apart piece by piece, beginning with his wife announcing she wants a divorce. Through a series of increasingly bizarre coincidences and events—some real, some dreams, and you never know which in the beginning—Larry begins a desperate search for the meaning of life. (There's something to be said about philosophy and its context within religion but I am not the person to discuss it.)
Like much of the Coens' work, the climax is unexpected and thrilling, confounding and infuriating. The lack of high-profile performers lends an authenticity to the project, making it feel lived-in and real, instead of "Here's a bunch of our famous friends in a vanity project." Though never as absurd, A Serious Man is a spiritual cousin to Raising Arizona .
At noon I head to the Sutton Place hotel for the Jennifer's Body press conference (I'm seeing the movie on Saturday). In line I meet ST VanAirsdale, late of Defamer and currently of the resurrected Movieline and nerd out a bit. I am just as nervous to talk to writers I like as I am actors.
Jennifer's Body opened TIFF's Midnight Madness section last night. These people were out late. Can you tell? (L-R: Diablo "My Hero" Cody, Adam "Dave Rygalski!" Brody and Megan "who cares?" Fox.)
Producer Jason Reitman yells at the moderator for mispronouncing his name ("even in Canada!") and director Karyn Kusama's.
When Diablo Cody was here with her debut, Juno, the movie that would change everything for her and Ellen Page, she wore wide-legged jeans, a black t-shirt and checked Vans, her hair Bettie Page black. Two years later, she's Nurse Jackie blonde and an Oscar richer, and what she's done for the profile of screenwriters and women working in Hollywood is practically historical. When I'm not taking notes I think of what I will say to her when I shake her hand at the end. I get it down to "Thank you" and "You're dope as fuck." But this year there's a table instead of a dais, and it provides a natural barrier, and she sprints away before I can fight my way to the front.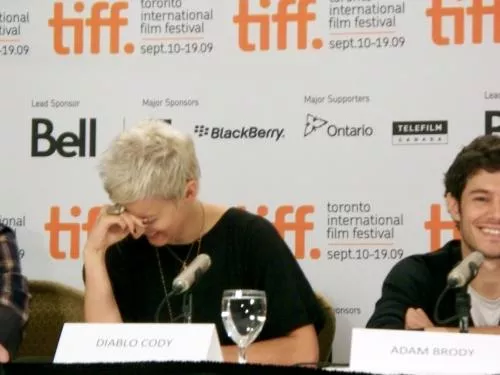 Cody reacts to one of Fox's infamous foot-in-mouth statements.
I can die knowing I have personally taken a photo of Megan Fox's "sexy" face. HI SARAH HENRICKSON. SCOTT IS A LOSER!
The program guide compared it to Me and You and Everyone We Know, so of course I had to check out Sook-Yin Lee's debut directorial feature, Year of the Carnivore. Though Lee's film has a similar quirky vibe and subversive approach to sex, it doesn't have the depth of Miranda July's masterful debut, so to put them in the same sentence is a disservice to both.
Cristin Milioti is Sammy, an undersized, sexually repressed grocery store detective slash cancer survivor with a bum leg (see), in love with local rock dude Eugene (Mark Rendall), who sings indie folk on street corners by day and plays indie douche rock at night. He won't sleep with her until she can loosen up, so she embarks on a quest to do just that, resulting in a handful of near-ridiculous encounters. Milioti is a good actor, but has to do so much heavy lifting she's practically sweating, and Eugene's story isn't fleshed out enough to balance the thing. Lee has a good eye and a good ear, but Year of the Carnivore will do nothing but extend the Twee Cinema trend, and no one wants that (or anymore scenes of symbolic naked swimming).
Seth Cohen gave me the stankeye! I wish I hadn't left all my Death Cab shirts in Halifax.